Are you up for finding the best platform to build your eCommerce store, and skeptical about Shopify if it will fit your needs? Finding the right eCommerce platform is challenging, given so many options out there.
While many top platforms like Magento are free and open source, Shopify has many unique features to consider it. Shopify development services have become quite popular among businesses because of the platform's many advantages.
Still, trying to understand whether It's profitable or not to create an eCommerce store?
Look at the stats given below:
Statista's report shows that eCommerce sales are expected to reach 8 trillion by 2026. So, eCommerce is a profitable sector to invest in for diverse businesses. And, Shopify can be your doorstep to enter this domain.
It is an easy and straightforward platform that eliminates all technicalities for setting up eCommerce websites. Keep reading for all the good reasons why you must consider Shopify for eCommerce store development.
Let's Understand Shopify a Bit!
Shopify is a popular eCommerce platform with best-in-class features and tools. It is a commercial platform, meaning you have to pay for its services. Moreover, Shopify is an all-in-one platform because it allows businesses to build and manage their online stores in one place.
How Do Shopify Works?
Shopify consolidates your product data, customers, and operational responsibilities within a single system that effortlessly integrates with all your sales channels. With it, you can streamline your business and incorporate any necessary tools.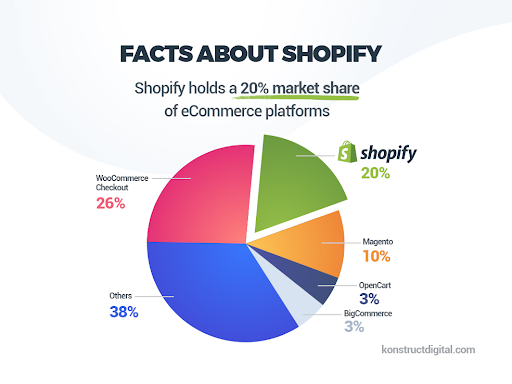 Key features of Shopify
Website builder: Shopify offers a website builder allowing businesses to create and customize their eCommerce stores. They can do this without any coding or designing experience. However, hiring a reliable Shopify development agency to build interactive websites is better.
E-commerce features: It offers all the features that businesses need to sell products or services online. These features include shipping, order management, payment gateway, and more.
App store: Shopify has an app store where you can find and install apps to extend your website functionality. It provides a number of different extensions and integrations for this purpose.
SEO and marketing features: The platform offers rich features for marketing social media integration, email marketing, and SEO tools.
Reporting and analytics: Shopify platform offers various tracking and analytics features to track and analyze customer behavior, sales, and traffic.
Benefits of Using Excellent Shopify Development Services For Your eCommerce Store
Shopify is one of the best platforms for eCommerce, with a user-friendly interface and a quick set-up process. The following are the major benefits of Shopify for eCommerce.
1. Easy and Quick
One of the reasons that make Shopify so popular is its ease of use. Indeed, creating and starting an eCommerce business is a cakewalk on this platform. Further, you don't require any technical skills to build your eCommerce website.
Shopify is a no-fuss platform, so you need not worry about hosting, configuration, and other technicalities. Only if you want something more complex will you rely on an expert to meet your needs. And you can hire Shopify experts in that case.
2. Appealing Templates
To drive more sales from your eCommerce store, you shouldn't only focus on your website's quality and overall user experience, but you need to focus on its appearance also. As your website's UI is the first point of interaction for users, it should be visually appealing. Shopify offers appealing website templates that you can use to build engaging websites.
Using these templates to create your website is easy, as you can apply them to your site without technicality. But using these templates may not provide you with a unique website because many eCommerce stores use them.
A unique website appearance is crucial to make your business stand out from others and give it a unique identity. Therefore, hiring an experienced Shopify development company is recommended to get high-quality customizations.
3. Reliable and Secure
Security and reliability are two essential aspects for businesses when it comes to choosing an eCommerce platform. Since eCommerce websites deal with credit card/debit card details, online banking details, and other sensitive information, their security is paramount.
Shopify is a Level PCI DSS-compliant eCommerce platform, which means it's a highly secure platform to build your website. Besides this, it has features like SSL, two-factor authentication, and more that make it quite a secure platform.
Shopify runs on a cloud-based infrastructure that makes it reliable because it can handle significant traffic and transactions. It's optimized to stay online even during peak traffic. However, you can hire a Shopify agency to add an extra layer of security per your needs or improve its performance.
Also read – Shopify eCommerce Development Trends
4. Feature Enhancement
In most cases, the existing features are not enough for an eCommerce website due to varying business requirements. So, you need to implement more features to get the desired functionalities. Thankfully, Shopify makes it easy with Shopify Apps.
With the help of a leading Shopify agency, you can easily integrate Shopify Apps on your eCommerce store to incorporate additional functionalities. It is handy for online store owners, especially those from a non-technical background.
5. Multiple Payment Gateways
Shopify does not just provide multilingual and multicurrency features; it also supports a myriad of payment gateways. Fortunately, there is support for popular payment processors, including Skrill, PayPal, Authorize.net, Stripe, Amazon Pay, etc.
Besides this, there is also Shopify Pay, its payment gateway. Moreover, with the help of experienced Shopify developers, you can easily integrate any third-party gateway you want.
6. Built-in SEO Features
Your eCommerce website is as good as nonexistent if it's not visible to the right buyers and not driving relevant traffic. It's where SEO plays a crucial role. Shopify has the features and tools that are within the system to help you optimize your website for search engines.
Entrepreneurs who owns Shopify eCommerce store have a better chance of Google ranking because of the SEO-friendly themes of this platform. Shopify themes are SEO-friendly, so your eCommerce store will align with search engine optimization guidelines. Moreover, your service provider will help you build an SEO-friendly website when opted for Shopify development services.
7. Mobile-friendly Websites
Web traffic from mobile devices is increasing steadily, and many online buyers prefer shopping online using their smartphones. Thus, optimizing your eCommerce website for mobile devices is not crucial, it's inevitable.
Shopify Plus partners allow you to create mobile-friendly websites. It offers templates that fit every screen size or device. Even if you don't have a template ready for mobile devices, you can hire Shopify developers to optimize it.
Key Difference Between Shopify Plus and Shopify Advanced
The key difference between Shopify Plus and Shopify Advanced lies in their target audience, pricing structure, features, Scalability, etc.
| | | |
| --- | --- | --- |
| Points to Consider | Shopify Plus | Shopify Advanced |
| Scalability | Shopify Plus is designed for high-volume businesses and offers advanced scalability features such as unlimited bandwidth and API calls. | On the other hand, Shopify Advanced is suitable for growing businesses with moderate traffic levels. |
| Pricing Structure | Shopify Plus has a custom pricing structure based on specific business requirements, typically involving a higher monthly cost. | While Shopify Advanced has fixed pricing tiers.  |
| Dedicated Support | Shopify Plus offers dedicated account managers and priority support to assist businesses with their unique needs. | On the other side, Shopify Advanced has standard customer support available to all users. |
| Multi-Channel Sales | It provides advanced multi-channel selling capabilities, including integration with major marketplaces, social media platforms, and POS systems.  | It offers multi-channel selling features but with some limitations compared to Shopify Plus. |
To Summarize
We hope you understand how Shopify works and beneficial for your business. Choosing the right platform is crucial regardless of which eCommerce model you follow, B2B, B2C, or any other. Shopify is a robust platform with lots of features and benefits. It is a secure, fast, turnkey solution for eCommerce.
Thus hiring an experienced Shopify development company can help you create a unique eCommerce store and succeed in the online business game. These team holds the expertise and skills to build a more complex eCommerce store with multiple storefronts, multi-language, and currency support, and more. Shopify has the features to fulfill all your requirements.