Needless to say, the future is unpredictable and can't always go as we plan, but it comes with new opportunities. Such is the case with COVID-19 that arrived with multifarious difficulties and hit businesses on every level. However, this also resulted in a change in the shopping pattern of homebound customers. Lots of businesses are now finding eCommerce as a bright option for their growth. Thus investing in eCommerce is more attractive than any other time in the past.
Whether you want to create an appealing storefront or versatile shopping cart system, you need a solid platform. Shopify is undoubtedly one of the premier platforms to rely on. As you choose Shopify web development, you have almost everything required to flourish online. Shopify is an all-in-one solution and comes with easy-to-access features.
When considering developing a Shopify store, you shouldn't miss the latest trends to get a robust online store. With Shopify eCommerce trends, you can build a state-of-the-art eCommerce store to maximize your ROI.
What do statistics reveal about the growth of eCommerce?
"Statistics have demonstrated that consumers are enjoying online shopping. It is forecasted that eCommerce growth will reach $4.5 trillion in the year 2021. Now it is the need of the moment for businesses to adopt this change urgently if they envision surviving in the tech-oriented era."
So scroll your screen down to know how this blog post will help you gain insights about Shopify and its development trends.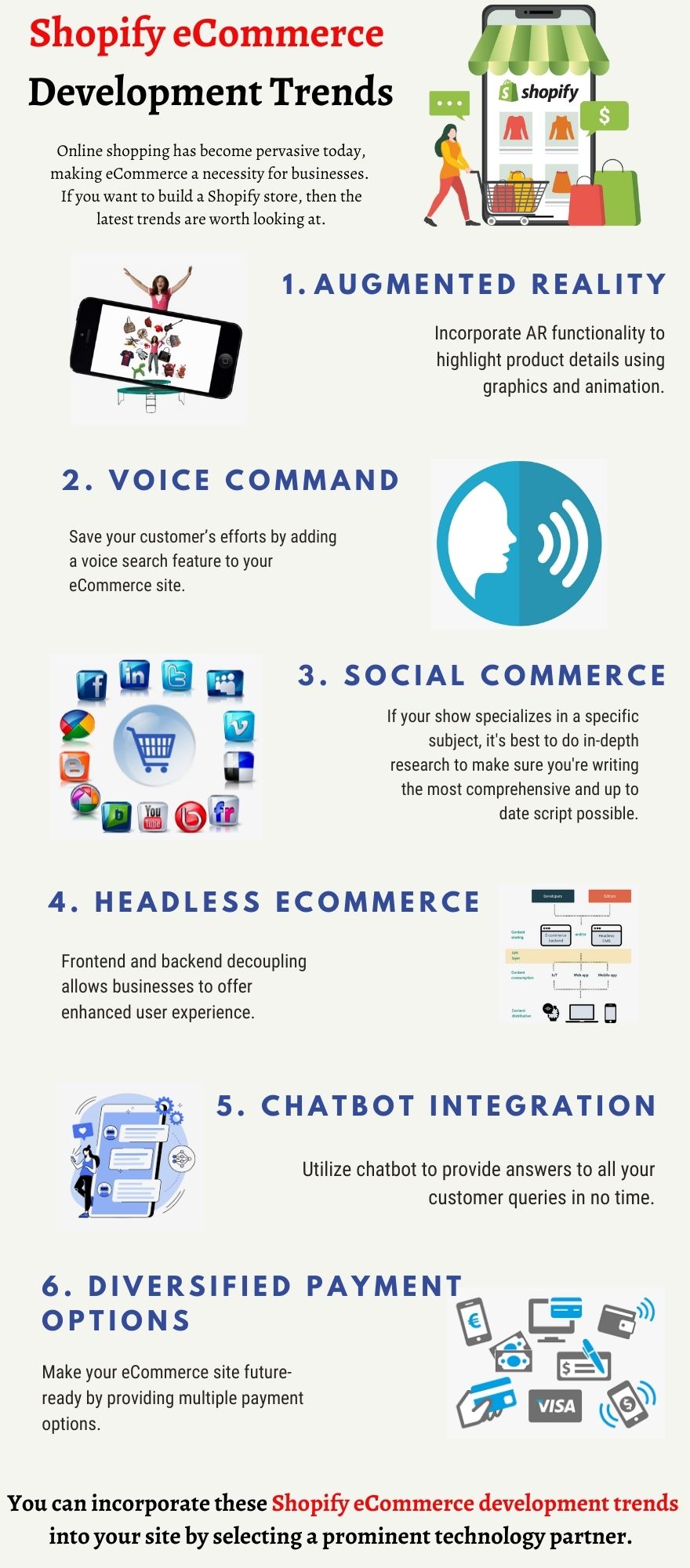 What is Shopify?
Shopify is one of the prominent eCommerce development platforms that businesses are making use of to fulfill customer demands. It has appeared as a one-stop solution for retailers as it offers a plethora of attractive features. By utilizing the minimum configuration, one can effortlessly make an online presence without struggling with hosting and coding skills.
Whether you want to own a full-fledged eCommerce store or a captivating website, Shopify will meet your expectations in both ways. It is the best fit for merchants who don't have the prior technical knowledge and for those also who possess strong coding skills. Being known with programming will allow you to make use of Shopify infrastructure more comprehensively. Alternatively, you can always choose a Shopify eCommerce web development company to create a tailor-made eCommerce store.
Shopify offers great features and benefits to businesses; some of them are mentioned below:
Visually Appealing online store
Fast-loading stores
Secure and Reliable
Mobile Responsive
SEO friendly
Easy Payment
Now let's find the name of renowned brands that are flourishing in the market by utilizing Shopify features:
A variety of industries like Apparel, automotive, retail, healthcare, sports, etc., have used Shopify to build appealing sites. Kraft Heinz Co, Whole Foods Market, Red Bull, Hyatt Hotel Corps, FitBit, KKW beauty, GymShark are some of the names that have embraced Shopify and Shopify Plus capabilities.
Many merchants are growing their market share rapidly in the global eCommerce segment by embracing Shopify web development solutions for their businesses. You must be eager to know what Shopify Plus is all about.
How Shopify Plus is making a difference?
Shopify Plus is designed to cater to the demand of large business giants who deal in a large volume of sales. It is a fully-hosted enterprise eCommerce platform, launched in the year 2014. Both the platforms Shopify and Shopify Plus work in the same way. Businesses will use the same dashboard, the exact center of information, and the same editor. But you have different Shopify web development experience on each of these platforms due to some additional functionalities.
Shopify Plus provides you step ahead functionality and gives you more control over the customization and setup process. It offers you with your own dedicated launch manager and ensures that your eCommerce site is wholly integrated with Shopify. They help developers to write lines of code and for seamless functioning of Shopify custom themes.
You can also make PSD to Shopify conversion by following simple steps. Another advantage of using Shopify Plus is the freedom to edit the checkout page, which is not allowed in Shopify.
Also read – How to expand your Business Successfully with Shopify eCommerce development?
Now when you have understood enough about the Shopify platform, you must be curious to know trends in Shopify development. So, let's start with the much-awaited part of this blog, i.e., Shopify eCommerce Development Trends.
Augmented Reality for Detailed View
The substantial benefit of offline shopping over eCommerce is that customers can actually touch and experience the product quality. But technology has provided a solution to this problem as well. Businesses can embed Augmented Reality (AR) that offers digital information along with the physical environment by adding graphics, superimposed images, animations, and whatnot.
As per the Statista data, the Augmented Reality market is expected to reach 1.73 billion by 2024. Using AR functionality, businesses can highlight each and every detail of the product like its size, scalability, uniqueness, etc., hence providing buying confidence to customers. If you are using Shopify as a platform, you can offer a detailed view of your product with the Shopify AR feature. Using the Shopify AR landing page, merchants can find complete information to incorporate AR in their eCommerce store.
Voice Command for Adequate Search
Searching for your desired product becomes more convenient with the emergence of voice commerce. Customers can quickly shoot voice commands instead of typing every alphabet. Voice and speech recognition market is expecting to be a rise at a pace of 17.2% CAGR to reach $26.70 billion by the year 2025.
With Shopify eCommerce web development, merchants can optimize search results to appear in voice queries in no time. Retailers should keep the voice search process simple so that buyers can use it more and more. Another way to harness voice search for the Shopify website is through making it mobile-friendly and adding voice-based navigation.
 Social Commerce for Engaging Experience
Social media is the place where most of the customers spend their maximum time. To succeed in the market, merchants adopt a strategy to sell across any platform and channel to target customers directly. Shopify is developing deeper incorporations with social media platforms like Facebook, Google, and TikTok while allowing merchants to sell their products more effectively. Social Commerce is one of the ruling eCommerce trends in the current era; if you want to know more about such trends, you can read our blog "Top 7 eCommerce web development trends for 2021".
For instance, Facebook Shops enables customers to browse and purchase their product through Facebook and Instagram apps with Shopify-powered checkout. Another fantastic platform is Instagram, which allows businesses to showcase their product in a live video, where customers can easily browse highlighted products and buy them.
Headless eCommerce
Every Shopify eCommerce website has front-end and back-end functionality. Customers only interact with the front-end part of a website which is also known as the user interface. However, they aren't aware of the back-end tech structure of an eCommerce site, which also impacts the overall user experience. Headless eCommerce is one of the trends in eCommerce development that allows online stores to decouple the stores from the front-end layer.
Because of headless eCommerce, online businesses can take advantage of CMS, PWA, or any other front-end solution in their tech stack for their online stores. So, decoupling the front-end and back-end can be beneficial for online stores in numerous ways. You need to hire a skilled Shopify developer with professional skills and knowledge of the latest trends to build a perfect Shopify store.
Chatbot integration
No customer likes long hours of waiting for customer support these days. And, businesses have also started noticing this issue, and they are putting their investments in ensuring the best customer experience. Here comes the role of chatbots. They are considered to be the best solution for providing efficient and reliable customer service today. This is because chatbots work just like humans. They serve customers by interacting with them as a human will do.
Chatbots have been a trending phenomenon in eCommerce web development for some time. And, there is no startle that it is also a helpful trend in Shopify eCommerce web development. Indeed, Shopify store owners can utilize this eCommerce trend to deliver a top-of-the-line customer experience. They can leave all the hassle of resolving customer issues and answering their queries to these chatbots. So, chatbot integration is a significant advantage for Shopify stores. As per the Mordor Intelligence report, the chatbot market can reach $102.29 billion by 2026.
Diversified Payment Options
It's high time for the merchants to realize that customers get annoyed by the websites that offer only credit card options. This is the time when merchants should give customers the liberty to pay when they want, how they want, and from whichever device they want.
As the eCommerce industry can flourish more in the near future, businesses should be ready with multiple payment options, including cryptocurrency, as it has become a legitimized payment method now. Therefore, by taking the help of a leading Shopify web development company, you can incorporate various payment options into your eCommerce store.
Wrapping It Up!!
The eCommerce industry is rising at a steady pace. It becomes imperative for businesses to start implementing out-of-box solutions to fulfill the dynamic demands of customers. As the online shopping craze is continuously surging, companies have no choice but to make their online presence powerful and engaging. Whether you plan to build an appealing retail store or a full-fledged site, Shopify web development is indeed a go-to solution for businesses today.
Shopify is the one-stop solution to accomplish all your goals. Businesses are working hard to go the extra mile to engage their customers; therefore, integrate Shopify development trends in your eCommerce site to make it competitive.