eCommerce is going through a transitional phase during the COVID pandemic. The impact on this industry started with the avoidance of online purchases and ended at the shift from offline to online stores. Although this is not the end. According to speculations, the eCommerce industry will witness more transformation.
According to an eMarketer survey, there has been a 12.2 % growth in the number of online shoppers who are aged 65 or above. eStores are moving towards a stage where all age groups are going to show interest in their products.
This is a lucrative period for entrepreneurs who are thinking about trying their luck in the eCommerce industry. It is the time when you must come forth with your products and services on a digital platform.
If you are reading this blog because you are considering to avail of Shopify conversion services then stop this consideration. Take a step ahead and get Shopify eCommerce development services. That is the only way to get over the slump in your sales.
Why Do You Need Shopify Conversion For Your eCommerce Business?
As you have chosen to land on this page, you must have either got a PSD web design or are about to get it done. In either of these situations, one must consider Shopify eCommerce development. It offers innumerable benefits for revenue generation.
It is time to take your design to the next stage and complete the process of your eCommerce store creation. The conversion is widely adopted by many businesses. Although it is never suggested to move with the herd! Let us check if it is going to benefit your business or not.
Shopify is Accepted by Businesses Worldwide
427,676 websites are using the Shopify eCommerce development platform. It has easy-to-use and installs features that make it an amazingly lucrative option for smart entrepreneurs. This makes it quite reliable and secure.
Businesses are trusting Shopify for the capability of ensuring sensitive information encryption. The strong community support ensures a quick query solution and long-term support.
Also read – Why is Hiring a Web Developer The Best Choice For Businesses?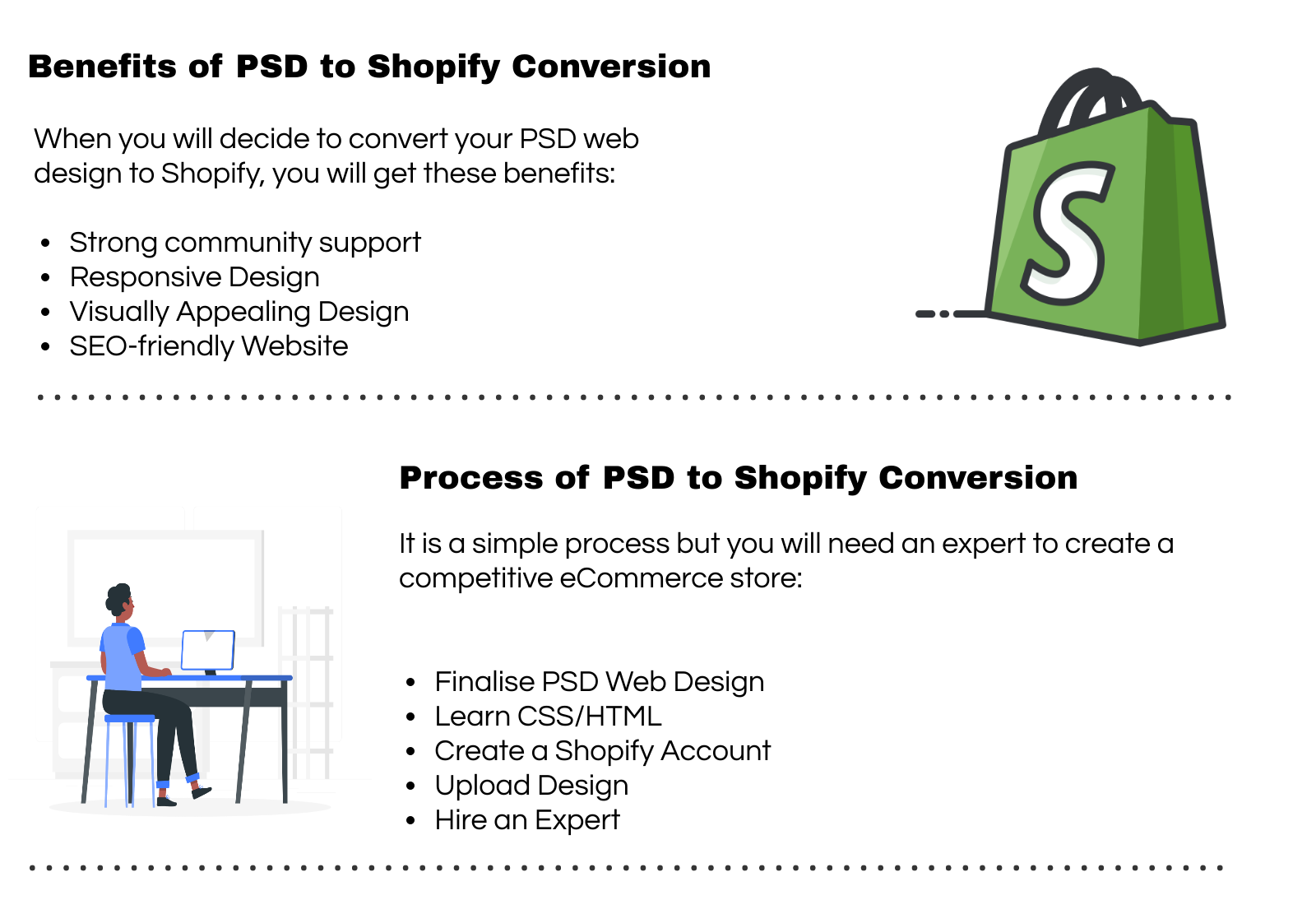 Theme Development Gives Responsive Web Design
The number of smartphone users is increasing at a fast pace. A mobile-friendly design is not an option anymore. It has become a necessity these days. Shopify is one of those smart and modern eCommerce platform development solutions. It creates a responsive web design. Hence, you can increase user acquisition, interaction, and retention rates. For this, avail of the Photoshop to Responsive Shopify Theme Conversion Service.
Photoshop Documents to Shopify Conversion Ensures an Attractive Design
There are a plethora of templates and themes offered by Shopify for professional purposes. Hire web developer who can serve the purpose of creating a customized eCommerce store for your business. Shopify holds the excessive potential to represent your PSD web design into visually attractive web pages.
You must consider opting for Photoshop Documents to Shopify template conversion services to get an eCommerce store according to your business goals and needs.
The Conversion Provides SEO Benefits
Marketing becomes easy for your eCommerce store with the Shopify platform. This is because this platform gives an edge over marketing techniques to its users. There are marketing tools like targeted email marketing, custom gift cards, store statistics, and many others.
You can gauge the visitors' behaviors and analyze their patterns for a better SEO strategy. One thing that gives Shopify an edge over other platforms is its advantage of improving the landing page design.
Moreover, the basic version of Shopify also offers some high-end SEO features like title, meta tag, and meta descriptions. They can be used for improving the visibility and reputation of your store.

What Is The Process Of Conversion?
You need to take help from a professional who can provide you with services. To save yourself from getting duped, you get aware of the services that you must expect.
Here are the steps involved in Photoshop Documents to Shopify conversion:
PSD Web Design
It is a basic prerequisite for these services. Make sure to at least present the basic idea of your website through this PSD design file. An efficient theme conversion service provider will be able to give it a refined version.
Extensive Knowledge of HTML/CSS
For a powerful front-end development, the professionals who are going to convert files to Shopify must possess knowledge of these tools. Make sure the people you partner with are well-versed with HTML or CSS. This allows them to explore the Shopify platform at an advanced level.
Upload an HTML file to Shopify Account
This is the last step where you will have to upload your PSD to an HTML converted file into your Shopify account. After this, you will be able to edit your design and start with the Photoshop Documents to Shopify theme conversion. At this stage, you might need an expert's help.
Why Do You Need to Hire a Professional for Conversion?
No matter how easy it may look, only a professional can convert your design from Photoshop Documents to Shopify according to the market standards. You can achieve your goals with the Shopify eCommerce development platform. For this, you have to be well-versed in its themes and templates.
The Shopify eCommerce platform brings a plethora of benefits to the table. You can create a responsive, SEO-friendly, interactive, and high-performing website with the help of professionals at CSSChopper.
It has been a decade that we are helping clients to convert file to Shopify to clients of different industrial domains. Share your PSD web design and get it developed into a competitive Shopify-based eCommerce store.
We guarantee 100% satisfaction and strict confidentiality. Partner with us to avail of custom website development solutions from a company that is counted among the most trusted industry veterans. Let's create something extraordinary together!