Today, the fashion eCommerce market is flourishing with several advancements. Indeed, it is now the biggest B2C eCommerce market. The market is growing rapidly and is expected to reach $1.164,7 billion by the end of 2025. Thousands of eCommerce websites are thronging to sell fashion apparel, clothing, etc. You might also be planning to grab a good chunk of the profits in this market.
If you plan to build a fashion eCommerce website, you need to choose the right tech partner. A perfect tech partner can help you create a unique website. The fashion industry is quite competitive today, so you need a website that stands out from others. The website quality can break or make your business. Indeed, quality may hinder or facilitate your business growth.
But how do you find the best technology partner for creating a fashion eCommerce store? Finding a matching eCommerce web development firm can be tricky. And, you have to look after many factors to select the best tech partner. Bewildered? Don't worry; we have covered some important pointers here to help you choose the most eligible tech partner.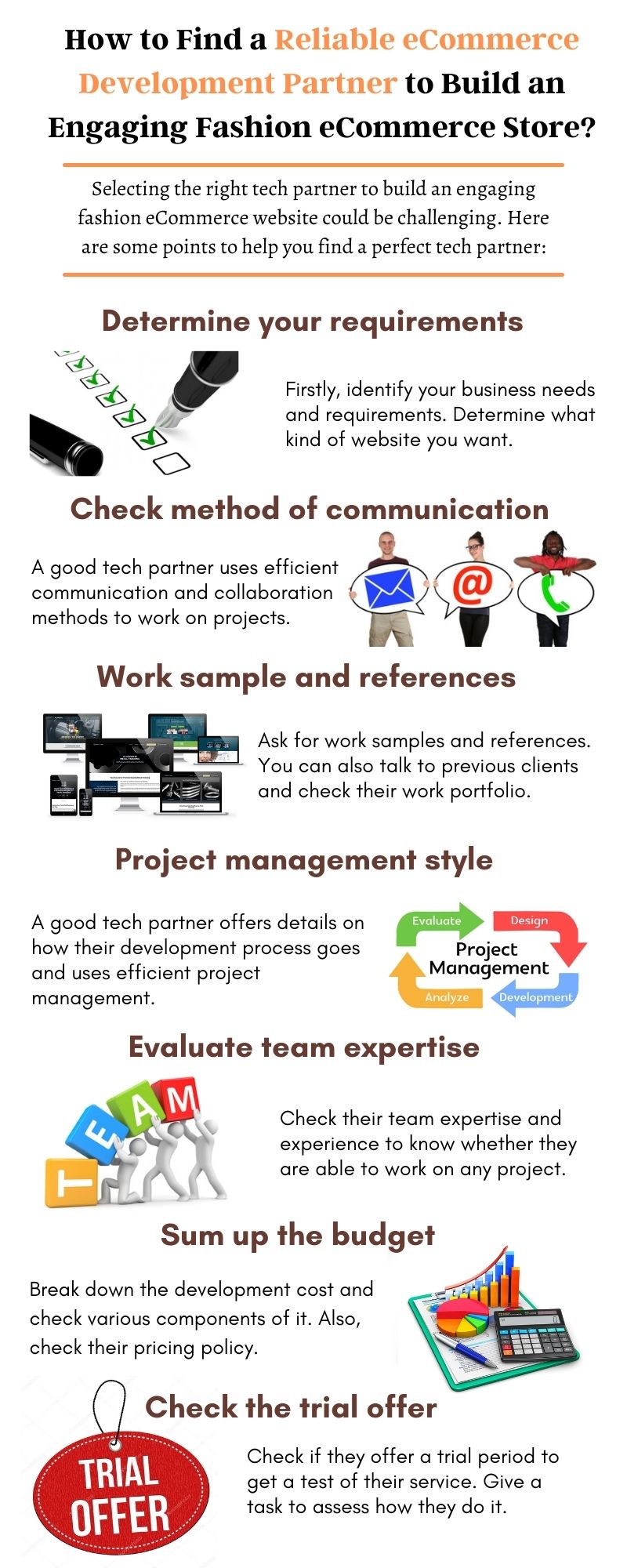 Here are Essential Pointers to be Noted for Selecting a Perfect Tech Partner:
Determine your Requirements
When you want an eCommerce development service, you look for a technology partner. And that technology partner will be with you for a long time. Hence, you have to be careful when choosing such a tech partner. Before making any commitment, you should have complete information about what you really want from them.
Start by determining your business requirements and underlining your needs. It is necessary to distinguish the website from its functionalities. As a result, you can focus on how your website should appear and what its features should be. Simply determine what you want your website to do for your business and customers.
Once you know what you want, you can look for a matching service provider. List down potential eCommerce development partners. Next, choose the one that fits your requirements and budget.
You also need to determine which platform is perfect for your eCommerce site. You should know how to select the right eCommerce platform for your business.
How do they Communicate & Collaborate?
For selecting a perfect eCommerce development agency, communication skills are a vital factor. Knowing about their communication methods is crucial to your project's success. Your project can go haywire because of communication gaps. Hence, it is imperative to assess their communication skills and methods of collaboration.
Here are a few questions you can put forth to assess the skills:
Does their communication & collaboration process match your work style?
Is their team available on multiple channels like calls, Skype, email, etc?
Who is the point of contact in case of queries, concerns, and feedback?
What is the response time for any question?
Don't hesitate to check all the aspects before making a final decision. You are not just hiring a tech partner; you are building a relationship that could last years. Hence, hire a tech partner that uses a good communication strategy.
Ask for Work Samples and References
Choosing a tech partner is a critical decision. Use every tactic to find the best. You can review the work of those who have already undergone the process. And, it means you should check out the work they have done for previous clients. The reviews and feedback available from their past clients offer more visibility. You can interact with their past clients to know their experiences.
Browse the project portfolio that they have showcased on their websites. You can check out the case studies for different projects to know more. All this information can help you get an insight into how they deliver services. Hence reach out to their clients to discuss their experiences. They can tell their experiences about deadlines, availability, responsiveness, etc.
Check their Project Management Style
You also need to check how they manage projects. A good eCommerce development partner will provide details on how their development process goes. You will know about the type of systems they use and the approach they follow. eCommerce web development companies use different methods for project implementation. To know about their processes, you can ask questions like:
What project and development approach do they follow?
How is each part of the project organized, like development and testing?
How does the next part of the process unfold?
Here are a few widely used methodologies for eCommerce development:
A good tech partner will use the most efficient development approach.
Evaluate Team Expertise
You should evaluate the expertise of developers on specific skillsets. A good development team is qualified over different technologies and expertise. The developers should be well-versed in front-end and back-end development. You should look for a company having developers with an excellent technical knack. The developers should also be good at databases and frameworks.
A good technology partner has a broad knowledge of the industry. Also, they have some specialized skills enabling them to deliver bespoke solutions. Apart from core skills, they should have apt QA engineers and project managers. These professionals play their roles in the development process to create a robust solution. You can also build a team for your project.
To build your team, you need to hire web developers from the tech partner. The team will include developers and other professionals according to your needs. Also, they allow you to choose required resources as per your requirements.
Sum up the Budget
Budget is a crucial factor for selecting a tech partner. Discuss the cost of your project with your tech partner and ensure that it's within the budget. You can request the tech partner to break down the cost. After this, you can check the pricing in detail. The cost may include server management, development, and configuration prices. Compare the cost of the different service providers to select the most eligible one.
You should ask about what is included in the cost. Check all the terms and their pricing policy. Make sure no hidden charges or third-party payments pop up at the end. Keep all project terms clear and ensure that you know about the prices you are paying.
Do they Afford a Trial Period?
You certainly have little or no knowledge of a service provider. In that case, you would like to test their service before making up your mind to hire them. The trial period is a great method to assess their service offerings. Many companies offer a trial period to let you test their service. You can give a specific task to them and check how they accomplish it. Based on your experience, you can select or reject the service provider.
Look for an eCommerce development partner who can offer a trial period. It helps you to gain trust in the service provider, and you can confidently choose one. Trial periods differ for every company. However, you should choose a tech partner with a reasonable trial period.
Benefits of Hiring a Tech Partner
If you want to create a perfect fashion eCommerce website, rely on a tech partner. Creating an eCommerce website is not a cakewalk. Professional developers have the experience and knowledge to craft the right digital solutions. And, they can work on clients' requirements and provide matching solutions. The following are the benefits of hiring a tech partner for creating a fashion eCommerce store.
Save Valuable Time and Money
When you choose an eCommerce development company, you avoid extra costs. The extra charges include training, staffing, and infrastructural costs. As you know, you have to invest in training and tools to make your own team for eCommerce development. But a tech partner has experienced developers who have all the tools and skills to do the work. Hence, you can save time and money together.
Quality Service
A technology partner has skilled developers who can provide quality solutions. As compared to a freelancer or an in-house team, they have broader experience and knowledge. Their knowledge and experience come from working on a myriad of projects. Therefore, you can get the best quality work from a tech partner.
Access to Latest Techs
Tech partners have access to the latest technologies. They have been working in the industry for a long time and know all the ins and outs. Hence, you can choose an eCommerce development partner to build a modern solution. They can use the latest techs and trends to create a robust solution. Make sure they are aware of the latest eCommerce web development trends.
Reliable Support
Another benefit of choosing a tech partner is that they offer reliable tech support. Indeed, when you face any tech glitch, they will readily provide support to resolve it. You can access their help any time without ado.
How much does it Cost to Develop a Fashion eCommerce Website?
Giving an exact amount for development cost is not possible. But you can get an estimation. Moreover, the cost depends on multiple factors. Typically, the cost of developing an eCommerce website has several elements. These factors include the number of products, the platform used, project complexity, features, etc. The cost depends on your needs and requirements. You can get a quick estimation by contacting us.
How does CSSChopper Fit your Requirements?
CSSChopper is a trusted and leading eCommerce web development company. Having a team of experienced and knowledgeable developers, we have served thousands of clients. Our developers are proficient in the latest technologies. They can work on any challenging project. We make the best use of technologies and skills to build cutting-edge solutions. We offer end-to-end eCommerce website development services.
Our USPs
13+ years of existence in the industry.
Vetted and certified developers.
Served fortune 500 companies.
Money-back guarantee.
100% customer satisfaction.
Final Thought
The share of the fashion industry in eCommerce is rising. Many entrepreneurs are looking for profit opportunities in this field. Nevertheless, a perfect fashion eCommerce website is essential to incentivize you. You can choose the best technology partner to create an engaging eCommerce website. There are many options that make it challenging to find a reliable tech partner. Moreover, you can choose the best partner by considering the points mentioned above. Follow the points to select a perfect eCommerce development partner.