eCommerce has changed the business scenario for good with sellers showcasing their products online rather in brick-and-mortar stores. Hence, there is a need for developing online stores that offer the perfect blend of visual aesthetics and functionality. Thanks to eCommerce website development, the buyer-seller relationship has reached a new level. Needless to say that eCommerce is playing a key role in modern times and providing numerous benefits to businesses including quick and easy selling options.
While eCommerce development platforms are there in abundance like Magento, PrestaShop, WooCommerce, OpenCart, etc, Shopify does have an edge over these platforms. Shopify is not merely an eCommerce development platform, it is an all-in-one solution that lets you enjoy everything from store creation, and hosting, to the easy expansion of your business.
How is eCommerce Website Development Beneficial for Businesses?
By opting for eCommerce web development, businesses have multifarious benefits including a convenient way of selling their products. Nowadays, businesses want to take advantage of every technological advancement to stay abreast of market trends. Having an eCommerce website will not only yield better business outcomes but will also give you an edge in the market. Here are some of the benefits that businesses can obtain with eCommerce website development.
Sell Quickly and Conveniently
By having an eCommerce website, you can quickly sell your products without any hassle. You don't need to spend money on setting up large brick-and-mortar stores to showcase and sell your products. Your customers will land on your site and buy what they want within a few clicks. You can also create a multi-vendor eCommerce website to tie up with other brands and sell multiple products from varied sellers or merchants. We can also integrate the right features in your multi-vendor site to make it a success. You can read our blog to know about the best multi-vendor eCommerce features to build the right website.
Low Cost
The cost of setting up an eCommerce website is much less than the cost of setting up a complete brick-and-mortar store. Indeed most eCommerce platforms and marketplaces offer free sign-up. Once your online store is set up and readily sell your products and promote your online store on varied social media platforms. The platforms you choose for eCommerce development charge a small fee.
Shoppers have Gone Online
These days shoppers are widely using online channels to buy desired products. Hence, it has become important for every business owner to have an online presence to ensure maximizing their ROI. In comparison to 71% last year, this year around 87% of buyers searched online for products. These simple statistics give you an overview of how online shopping is becoming significant.
Quick Insights on Customer Data
One of the key advantages of selling online is that you can easily collect data, perform evaluations, and act on the data. In nutshell, through an eCommerce website, you can obtain valuable data that give you useful insights about customers' shopping habits that enable you to form better business strategies.
Greater Customer Reach
When you opt for eCommerce website development, you will have a website that will allow you to serve customers even in further regions. You can not only serve customers in the local market but also reach customers in other countries or new regions.
Shopify – A Detailed Introduction
Shopify is one of the top eCommerce development platforms that you can utilize to create eCommerce websites. It offers powerful management tools and appealing website themes that simplify the development of eCommerce websites. Shopify has evolved into a robust eCommerce platform with premium features for shop owners. With a minimum amount of configuration, one can quickly and easily start his/her online store without buying any hosting or struggling with code. Hence, more and more sellers are opting for Shopify web development.
Shopify comes in many versions and popular ones are Shopify Plus and Shopify Advanced. These two versions are the perfect options for most retail businesses. But which version should you choose depends on your needs and budget. Both of these versions have excellent features but they do have differences in terms of functionality.
If you want to know more about Shopify Plus vs Shopify Advanced and figure out which one is best for eCommerce development, you can go through our in-depth comparison of Shopify Plus vs Shopify Advanced platforms.
Here are some notable features of Shopify
Excellent performance and speed
100+ themes
Hassle-free integration of third-party apps
Blogging platform available
PWA-enabled
Shopify POS integration
Free SSL certificate
Tax integration
M-commerce and mobile version
24×7 support
Multilingual platform
Pros and Cons of Shopify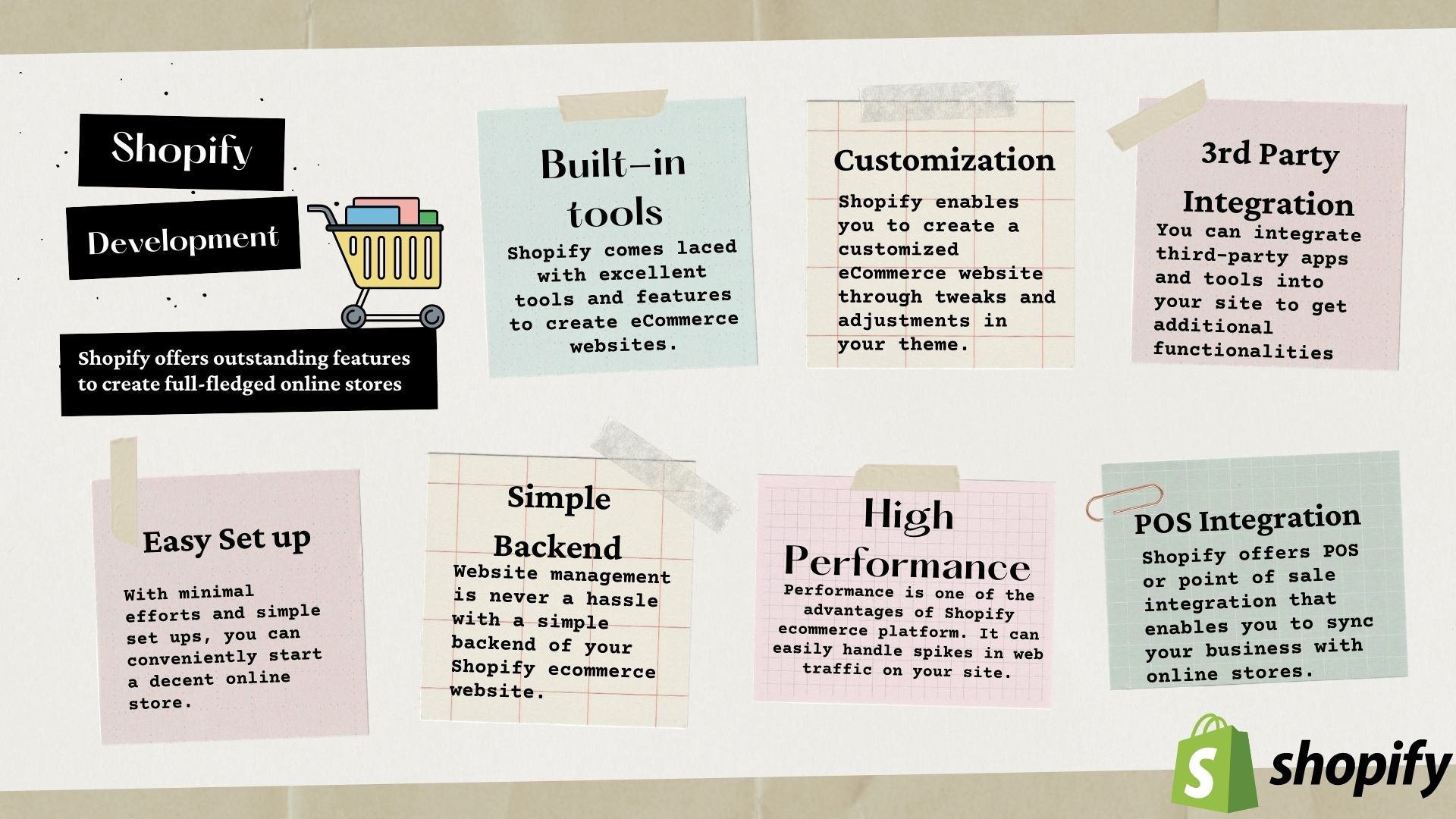 Being one of the leading eCommerce website development platforms, Shopify brings many advantages for businesses. The following are some pros and cons of using Shopify for developing modern-day eCommerce websites.
Pros of Shopify Website Development
Shopify has an excellent platform when it comes to features and ease of managing online stores. It offers several features to run an eCommerce website like filter and organizing products, order and customer tracking, inventory management, and reporting like marketing insights, customer information, sales, etc. Further, it has an intuitive and easy-to-access user interface that allows managing all these aspects without any hassles.
You can hire Shopify developers to build custom website themes using Shopify's templating language, Liquid. Shopify's servers can also handle preprocessing using SCSS which can save development time. Due to a modular theme structure, keeping files organized is easier.
Customization
You can create a top-notch customized eCommerce website with Shopify as it offers a good opportunity for customization. You can perform all the tweaks and adjustments in your website theme and align it with your specific interest. Depending on the website theme that you have installed on your site, you have varied sections where you can add or change content according to your interest. These themes may also include varied custom templates for different products, collections, and web pages.
3rd Party Integration
It is possible to make third-party integrations of apps with Shopify. By adding these third-party apps to your Shopify eCommerce store, you get further customizations to meet your business needs. You can also find tons of free and premium third-party apps on Shopify App Store and integrate the desired one/s into your online store. It has a robust API that offers a lot of options for creating custom storefronts or integration with other platforms.
Cons of Shopify Web Development
Development Process
Whether you start from scratch or work with an existing theme, developing a website theme is always labor-intensive. Shopify does do some SCSS preprocessing in the front-end but it is also supported up to the 3.2 version. This version is significantly out of date. Front-end development with Shopify can be challenging from a preprocessing point of view as variable management like Maps, additional directives like '@at-root', other improvements for functions will not work. You get limited development options with either a built-in editor or with the Slate toolkit of Shopify.
Manually Intensive
Although Shopify's ability to integrate third-party tools and apps allows you to utilize additional functionalities in your site. But there is always a possibility that a particular integration may fail to work with your theme or require modifications.
Pay Hefty Fees
One of the considerations is that the additional apps you will use with your online store may charge a fee. Hence, many of the third-party apps that you integrate into your Shopify store may charge a fee that might increase with the number of such apps you use.
A Comparison of Shopify with Other Top eCommerce Platforms
When it comes to developing a customized eCommerce website, you have dozens of eCommerce platforms to choose from like Magento, WooCommerce, OpenCart, Shopify, etc. While each of these eCommerce platforms has top-of-the-line features to create feature-rich eCommerce websites.
| | | | | |
| --- | --- | --- | --- | --- |
|    Features |    Magento |        Shopify |       OpenCart |       WooCommerce |
| Deployment (cloud/on-premise) | Both | Cloud-based | Both | Both |
| Key Features | SEO, catalog management, order and product management, shipping and payment features, and more. | Order and product management features, in-built analytics features, social network integrations, SEO, payment gateway, and more. | Supports multiple currencies and languages, shipping features, SEO, sales reports, multiple tax rates, payment gateways, and more. | Advanced order and product editing feature, stock tracking, email marketing, SEO, payment gateways, tax control, delivery settings, and more. |
| Preferred Users | Being the most scalable platform it is quite useful for large businesses. | It's a good choice for small and medium businesses. Deployment is fast and easy to create online stores. | Being a scalable platform, it is perfect for large businesses and can support varied features. | It is good for those who are already using the WordPress site. It gives optimal control and scalability over the website. |
| Responsiveness | It's a mobile-friendly platform. | Shopify a mobile-friendly platform. | It's a mobile-friendly platform. | It's a mobile-friendly platform. |
| Third-Party Integration | Magento supports the integration of 300+ apps like Zoho, Mandrill, etc. | It offers 500+ integration options including QuickBooks, SEO Image Optimizer, Quick View, etc. | Opencart offers integration with 200+ apps including MailChimp, QuickBooks, Xero, etc. | It supports 500+ integrations like MailChimp, Xero, Zapier, etc. |
| Tech Support | With the Magento Enterprise edition only | Yes | Yes | Community forums |
Why is Shopify web Development the Right Choice for Businesses?
Easy Setup
One of the key reasons why Shopify is a perfect choice to start your own online store is because developing an eCommerce website is very easy with this platform. You don't require any specific knowledge or do some coding to develop your site. Also, you don't need to worry about hosting and other things as this platform offers complete solutions. Creating and setting up your online store is so easy and quick.
Simple Backend
Apart from having easy tools and features to create eCommerce websites, Shopify also offers a simple backend system that offers easy site management. A website can easily manage varied aspects of his/her website from the backend.
POS Integration
Those online retailers who also have physical stores can take advantage of its point-of-sale integration to sync with online stores. Small e-retailers who cannot afford full-service solutions get benefit from this feature.
High-Performance
Shopify hosting offers a monthly subscription and is laced with automated site updates and backups. Being a reliable platform, it is dependable when it comes to heavy traffic. This platform can handle a huge spike in web traffic and provide optimum performance. eCommerce owners can run their online stores smoothly even with heavy traffic to their sites.
Also read – Why is Hiring a Web Developer The Best Choice For Businesses?
What is the Cost of a Shopify Store?
Shopify offers merchants a wide range of options to sell their products or services online. It has many plans, including Shopify Basic, Shopify Advanced, and Shopify Plus, to choose from to build robust eCommerce stores.
There is a 14-day free trial that you can use to build a website, and check out the features of this platform. The cost of Shopify website development depends on which plan you choose for creating an eCommerce website.
The plan starts with Shopify Lite, which costs $9 a month. Shopify Basic costs $29 a month. At $79 per month, you get a Shopify plan above the Basic one but below the advanced options. More advanced options come with better features but higher costs.
Shopify Advanced is available at $299 per month, and for Shopify Plus, you need to contact their team for a quote. Every plan provides different features and is suitable for different businesses. Depending on which plan you choose, the cost of Shopify development varies.
Small and medium businesses can choose Shopify Advanced, Basic, or lower plan as these plans provide the necessary functionalities to meet their requirements. So, the cost of the Shopify platform could vary between $9 – $299 per month.
On the other hand, Shopify Plus is more suitable for enterprises as it is used to develop large-scale eCommerce websites. Shopify Plus has all the functionalities necessary for an enterprise.
Shopify Plus offers many advantages, including full website customization and several other advanced features. Hence, with Shopify Plus, you can create a well-customized website. You can opt for Shopify development services to create the website as per your requirements.
How to Choose the Right Shopify Development Company?
If you want to build a fully custom built website on Shopify, you need to get help from a developer. You can choose a Shopify development company to create a website. Since the market abounds in different types of eCommerce websites choosing the right company is important to build an effective website. Here are a few things that you should consider to pick the right Shopify development company.
Reliability
Check if the company you choose is reliable for your project. You can check testimonials and reviews of the companies to know about the reliability of the company.
Budget
If you can set out a budget and then look for a Shopify development company that fits your budget.
Tech expertise
Research the company and find out what technical expertise they have to know if they can deliver the desired solutions.
Final Note
If you want to expand your retail business then an eCommerce website might be the perfect way to do this. By creating an eCommerce website, you can reach a wider audience as well as sell your products more conveniently. To build a perfect eCommerce website, you need to opt for the right eCommerce platform. Shopify is one of the topmost eCommerce platforms.
You can choose Shopify web development and develop a robust website to start selling your products online. Shopify gives a lot of options for website development and it comes in different versions that you select according to your business requirements. You can find a top Shopify development company and get a top-notch eCommerce website that suits your business model.