These days, businesses invest a lot of amounts to create their own websites to outshine their brand in the online arena. Websites not only provide businesses a way to reach a large number of customers, they are also useful to build brand awareness among customers in the digital world. To create a state-of-the-art website for your business, you need to hire the best web development experts. Moreover, creating a modern website requires a large amount of data to be handled to generate unique ideas. Typically, you should prefer choosing a CMS to develop the websites. A CMS simplifies the process and helps build quick solutions. You can choose to hire Joomla developer to build an exclusive solution for your business.
Building a website becomes convenient with PSD to Joomla conversion. You can create a Photoshop design for your website, and then hand it over to a developer to create an amazing Joomla theme for the site. This method is being utilized widely to create outstanding Joomla websites. You can also create Photoshop designs, and then get the design documents converted to high-quality Joomla themes.
Steps required to convert your PSD to Joomla template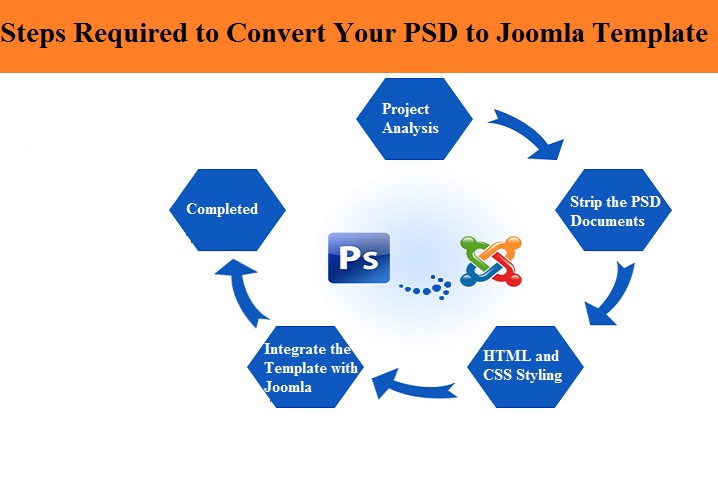 The process of converting PSD files into Joomla template requires you to follow several steps. By using these steps, you can easily convert the design files into the required templates. Follow the steps below:-
Step 1: Project analysis
First of all, you have to analyze your project carefully to understand different parts. To do this, separate the pages as well as items like menu, galleries, text blocks, etc. Now, you can check, which component to implement by using the CMS. Typically, there is a menu, header, main block and footer in a Joomla website. This is very convenient, to begin with, these modules to simplify the process. So, analyze your project and make sure you check all components to ensure a smoother conversion process.
Step 2: Strip the PSD documents
You should remain careful and diligent to complete this step in case of Joomla. This is because, it is where you create the foundation for your website or theme. Moreover, cut and slice the PSD files into different components and group necessary components. You can stylize and link different pages when required. Place images into grouped folders so that the system can access them easily. Start with slicing the Photoshop files into different layers like footer, header, navigation, content, etc. Save the sliced images carefully in the folders.
Also Read: Everything You Need To Know About PSD To HTML Conversion
Step 3: HTML and CSS styling
After slicing the PSD in various components, an experienced Joomla developer & programmer can code the designs into HTML and CSS. This step includes coding down the components and elements of the design and adding required styles with CSS. The developer makes quality coding keeping various standards like W3C coding standards in mind. Adding to this, the developer creates semantic and quality code while converting the PSD to Joomla. When creating the code, he also considers SEO-compliance. Hence, a good programmer utilizes the CSS for designing and styling varied parts of the Joomla template. Apart from this, he uses JS to add functionality to the site.
Now integration comes into light-
Step 4: Integrate the template with Joomla
As soon as you finish slicing and coding your Photoshop documents, the next step is to implement the template into your Joomla site. Your template is ready with required HTML coding, CSS styling and JS scripts. Now, you need several folders and directories to integrate the template to your site. In order to install a template, Joomla reads the template_details.xml file. If everything is fine, the programmer integrates the template to the site using this XML file.
Why choose a PSD to Joomla conversion service provider?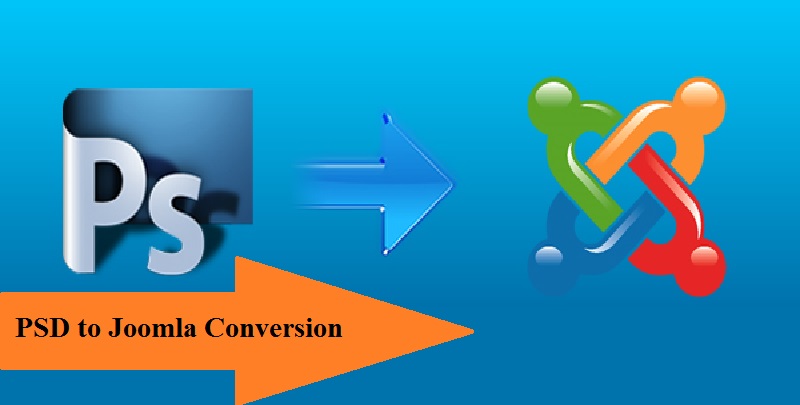 We have mentioned the step by step process to convert Photoshop documents into the Joomla template. However, to complete the process either you should have the experience, or it demands an expert developer as it requires a lot of technical skills. If you do not have any technical expertise in web development, you will not be able to create a good website template. Moreover, outsourcing the projects is the best option to get a high-quality and responsive template for your Joomla site. Choose a reputed Joomla website development company to get your Photoshop documents converted into desired templates.
Though there are dozens of web development companies providing PSD to Joomla conversion services. However, not all of these companies are reliable and many of them do not provide up to the mark services. So, you should be careful when choosing a web development company for your project. There are numerous factors that you should consider to find out which company is the best to work on your project.
Looking for a Joomla Developer?
Contact Us
Factors to consider when choosing the right Joomla website development company
Choosing the right developer for your website is key to a successful web development project. As the market abounds with lots of development companies, it is essential that you evaluate different aspects to get the right professionals for your projects. The following are points that you should consider when choosing a website development company.
Coding experts
Coding is the essential part of the web development and choosing the right programmers for your site is important. Make sure that the developers you choose have full-fledged knowledge of coding and they understand every nitty-gritty of building the websites. The type of website you want for your business can only be achieved when you have the right developers working on your project.
Good track record
By taking a glance at the projects they completed successfully in the past, you can determine whether a development company will be able to meet the demands of your website. You can check their portfolio as well as ask them for work samples to ascertain whether they have the required ability to work on your project. If they have built excellent websites in the past, then there is a good chance that they will complete your project as per your expectations.
Certified developers
An excellent web development company possesses several privileges that others don't via long-standing experience and quality service in the industry. These types of companies provide the best Joomla development services as they have highly skilled and certified developers in their team. Partnerships with the leading brands and certifications from companies such as Google provide an edge to the companies over competitors.
Here are some more points? 
Help and support
The right web development company works collaboratively with you throughout the project and responds to your queries. Make sure that the company you want to choose is responsive and resolves their clients' issues. Plus, they must be able to understand your business goals and deliver you the functional and attractive solution that meets your requirements.
Integration expert
In case of custom Joomla web development, the developers you choose should have the ability to incorporate third-party systems into your new website. Be it Salesforce, MailChimp or else, the right developers will ensure easy integration of these systems across different platforms. They should also be able to integrate additional modules and themes for your Joomla site.
Variations in experience
It is very helpful to know about whether the development company has experience working in a variety of industry and field. This helps you know what kind of projects they can handle and their level of expertise. If they are quite good at delivering excellent solutions for different types of industries and audiences, then chances are there that they will build a good solution for you too.
They love back-end the same as front-end
Your website should not only look good and pleasing, but it should also function seamlessly for your customers. The users of your site should be able to make purchases and do a lot of other stuff conveniently on your site. The right Joomla web development solution provider ensures that the site is appealing and interactive by creating a solid back end and front end.
They have good behaviour
Often many people fall in the hands of developers who don't behave well with their clients even make a mess of their project. You should be careful when choosing a development company and ensure that they are helpful, sincere and behave well with their clients. By going through varied reviews and testimonials by previous customers help you find out a lot about them. You can also try to contact any of their previous customers for complete feedback about their behavior and work experience.
CSSChopper is the most reliable partner for PSD to Joomla conversion service
If you are looking for the best and quality conversion of your Photoshop design documents into Joomla template, you can bank upon CSSChopper. We are a leading PSD to design company, serving the industry for over a decade. We have long-standing experience and have worked with different business verticals to deliver exclusive solutions. You get the best PSD to Responsive Joomla conversion service at competitive prices.
Conclusion
Getting a website for your business has become imperative today due to the increasing influence of the digital market. There are numerous ways to build a beautiful site for your business, you may create a new site from the ground up or utilize a CMS like Joomla to build site conveniently and quickly. PSD to Joomla conversion is the process that lets you convert your Photoshop designs into Joomla templates. However, this work might be daunting if you have no knowledge of programming as the process requires a lot of programming skills. You can hire dedicated Joomla programmers to get this work done easily.
There are different web development companies in the market, but all of them are not reliable. You should consider several factors before choosing a developer for your project. CSSChopper is a trusted web design and development company and provides you with the best Joomla developer for hire to work on your project. Our developers can build highly creative and state-of-the-art solutions for your business.