Isn't it amazing how quickly the world of eCommerce is changing? It is due to the emergence of new ways of developing eCommerce websites.
To put it simply, businesses need to think out-of-the-box for creative solutions to attain shoppers' attention and convert them into long-term customers.
So here comes the question for entrepreneurs: how will you do that? How will they match their pace with new trends and technological changes? Additionally, how will eCommerce platforms tackle the countless demands of modern-day customers?
That's where the role of Headless Commerce comes.
With Headless Commerce, you can create eCommerce websites that offer your customers unique and seamless shopping experiences.
Headless Commerce is increasing in popularity nowadays. It is worth knowing about it and how it can benefit eCommerce businesses.
Just scroll down your screen to find out about headless commerce development.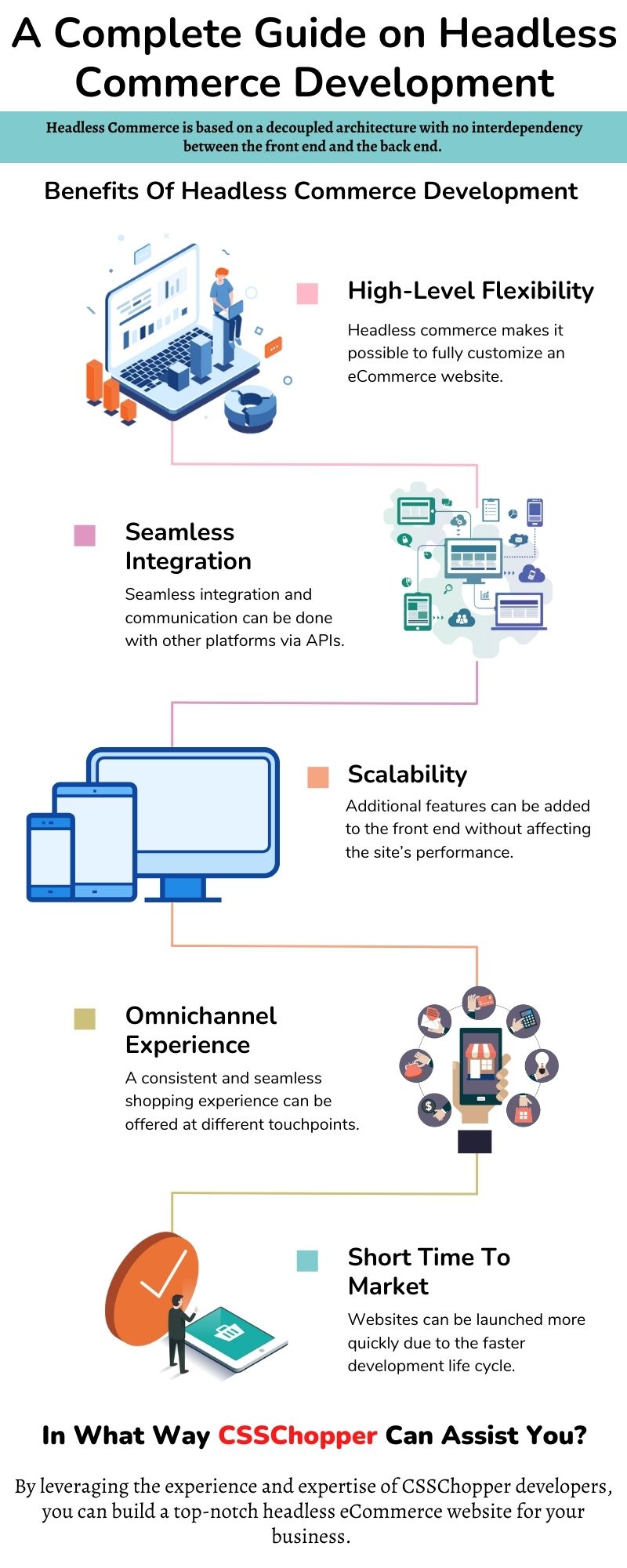 What Is Headless Commerce?
In simple terms, Headless Commerce refers to the decoupling of the front end and back end of an eCommerce website.
The frontend, the presentation layer through which your customers interact, is separated from the backend behind-the-scenes functionality layer or database. Moreover, the decoupling of the two layers will result in a more flexible, faster, and consistent shopping experience in your eCommerce store.
Businesses adapting to headless commerce can offer an enriched user experience as they have the freedom to customize their website's presentation layer. Further, in a headless store, these two sides, the front end, and back end work independently of each other and are connected via APIs. Moreover, an API is the mode of communication between two layers, sending the information to both layers in real-time.
Traditional Commerce vs. Headless Commerce
In the traditional commerce approach, front-end and back-end layers are closely linked. So it becomes difficult for the eCommerce store owners to make high-level customizations. While in headless commerce, they get unlimited customization options as the front end can be created independently.
Page loading speed is slow in traditional commerce as it requires complicated integrations. At the same time, headless commerce removes architectural barriers and supports a commerce system that is efficient, lean, and quick for all users.
Third-party integration can be easily implemented in traditional eCommerce but cause issues due to the storefront's poor architecture. In headless commerce, businesses have various possibilities to integrate third-party services due to a flexible architecture and robust APIs.
Benefits of Headless Commerce Development
High-Level Flexibility
Unlike traditional commerce, it doesn't confine you to the use of limited templates or themes. It offers businesses much more flexibility in customizing websites. Since both layers (front end and back end) are independent of each other. Thus, making changes to the presentation layer (front end) is easier without affecting the back end.
A custom-built eCommerce solution can help you deliver the best user experience by creating your website and keeping your target niche in mind. Using headless commerce architecture, you can develop a customized website that will engage your visitors and convert them into long-term customers.
Seamless Integration
In headless commerce, integration of different third-party tools and platforms can be done seamlessly. Using a powerful API, you can integrate your existing systems, such as ERP, CRM, IMS, and PRM, into your eCommerce site using the technologies of your choice.
Hence, you can seamlessly integrate new functionalities into your eCommerce website without making changes to the full eCommerce stack.
Scalability
Adapting your brand to new trends and evolving technologies without re-platforming your backend is possible with headless commerce. Scaling up your eCommerce website is much easier than implementing the headless approach, as it reduces the complexities involved in the scalability process. The separate front end and back end make it possible to make necessary changes according to the scalability needs without affecting the other part of the website.
You can implement functionality into your existing system by using APIs and frameworks as needed. When you use a headless solution, you don't have to build a new website from scratch. Instead, you can integrate new features as your business grows. Thus, you can quickly scale up the website as required.
Omni Channel Experience
The customer journey has become increasingly complex, with 74% of customers using more than one channel to initiate a transaction. Approximately 76% of people prefer a particular channel depending on the situation. Therefore the single-channel approach is no longer sufficient for businesses.
No matter which shopping channel your customers are using, you can offer a better shopping experience to your customers with headless commerce. You can modify your front end and develop an eCommerce website that works smoothly across different channels with headless.
Short Time To Market
With headless, you can expedite experiments and changes limited by a monolithic architecture. Customer behavior is changing tremendously, and if you can't match their expectations, your survival will be difficult.
In headless commerce, you can make changes to your website's front end quickly without modifying the backend layer. Hence, updates and changes to features can be executed fastly. A headless commerce company can implement new functionalities quickly to match customers' preferences resulting in a shorter time to market.
How Can Businesses Go For Headless Commerce?
Headless commerce offers a myriad of opportunities and benefits to businesses, some of which we have discussed above. It can help you meet customer expectations and outperform the competition because you have greater control over how you want to build your website.
Flexibility and scalability are the top advantages of headless commerce development. You can implement this decoupled approach by migrating your existing eCommerce website to a headless commerce store to enhance the user experience.
You'll need to find a platform that can handle your business's growth and fit your needs when you switch to headless commerce. Various headless commerce platforms are available in the market. Let's check these platforms in detail:
Magento Headless Commerce
Magento is a widely used eCommerce development platform for businesses looking for scalability. It is the right fit for headless because it is highly extensible. With Magento headless commerce, you can develop a customized store for your business and offer personalized experiences to your customers.
Magento Commerce's headless architecture lets companies evaluate and deploy new customer experiences across various channels. Unconstrained control, futureproof architecture uniformity across touchpoints, and improved scalability are the benefits of Magento commerce in headless commerce.
Shopify Headless Commerce
Shopify plus is an enterprise-level edition of the Shopify platform. It provides the tools and systems that your eCommerce store requires. With Shopify's headless commerce development, you can turn your manual tasks into automated workflows using its built-in eCommerce automation tools.
There are various reasons to opt for Shopify headless. Let's find them out.
Headless commerce can be implemented using Shopify's GraphQL Storefront API.
With Shopify headless commerce, you can integrate business tools and systems like CRM and ERP.
PrestaShop Headless Commerce
PrestaShop is among the top eCommerce website development platforms. And, using PrestaShop headless commerce, you can create a user experience-focused online store customized according to the distinct needs of your business.
It is possible with its vast range of plugins and features, which help you develop a headless eCommerce store for your business. You can migrate your existing online eCommerce store to headless PrestaShop and enhance your user experience.
WooCommerce Headless Commerce
You can opt for WooCommerce headless commerce service to develop a complete eCommerce website based on your needs. With the use of the Rest API of WordPress, WooCommerce enables the seamless decoupling of the presentation layer from the database side. It allows you to create template-free eCommerce websites by providing freedom in developing the front end.
Concluding Thoughts!
A headless commerce approach is one of the perfect solutions for businesses that want to offer excellent customer experiences and provide their service across multiple channels.
It is a solution that allows brands to innovate faster and acclimate to transforming customer behavior and new technologies. Further. headless commerce's ability and flexibility to innovate allow businesses to futureproof their offerings. Therefore utilizing headless commerce for your business can offer a high level of flexibility and scalability to your eCommerce business.
Moreover, you can partner with an experienced headless commerce company that can understand your business and offers best-in-class services to your business.