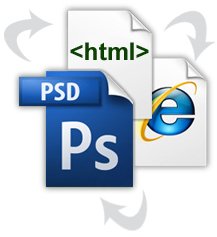 A website represents the face of every online business and designing the most suitable website is the vital part for every business. Website designing initiates with the process of hiring PSD to HTML Developer who turn up the static Photoshop designs into functional and dynamic web pages. The conversion process enables the web pages to be accessible on internet. Due to this, the conversion is required to be observed carefully through professionals and skilled programmers.
Hiring a professional HTML Programmer provide a lot of benefits to a website. Let's discuss some of the advantages of hiring professionals for conversion process:
? A skilled programmer performs the PSD to HTML conversion carefully by ensuring the cross browser compatibility. It proves compatibility with browsers like IE, Opera, Safari, Mozilla, safari, and lots others. Hiring a conversion programmer assures you of W3C standard coding for your website that enables maximum number of visitors to reach your site all over the globe.
? By hiring a professional you can feel free about the semantic code validation, functionality and features of your website.
? By hiring a skilled PSD to HTML developer you will be eased about the technical support and maintenance issue of your site in future.
? The most important advantage of hiring a skilled programmer is timely delivery of your work with quality. A Skilled programmer understands the value of time for your project and complete the project within the rotational time promised for the project.
? The general myth about hiring a skilled HTML programmer is that they are high on cost. In fact, a skilled programmer is not costly as they provide valuable service with extra ordinary quality. One having lower budgets for web solutions can follow flexible payment modes instead of paying off the money with one go.
? Hiring a programmer for PSD to HTML is also beneficial for its end results. You will face any flaw in the website designs after the completion of the project hence, full satisfaction.
With all the points above it is quite easy to understand the benefits of hiring professionals for your PSD to HTML conversion. Choose the right developer for your desired web solutions and get results above your satisfaction.
Posted By: CSSChopperTeam