Glancing around, you can see many technological advancements shaping our world and opening up new opportunities for businesses. Undoubtedly, eCommerce has higher stature in this aspect because it simplifies the buyer's and seller's journey. Consequently, entrepreneurs are opting for eCommerce development to reap higher profits. However, selecting the most suitable eCommerce platform is crucial to building the right website.
Magento vs Shopify is a long battle when it comes to selecting the best eCommerce platform. Indeed, supporters of any of these platforms will give plenty of reasons why theirs is excellent. But which of these platforms is the absolute best choice is a question to be answered prudently based on enough research and data. So, here we will be unraveling the battle and will try sorting out the winner.
Let's begin by understanding every platform.
Magento 2 vs Shopify: An Overview
Both Magento and Shopify stand tall when it comes to the most promising eCommerce platforms. However, there are dozens of reasons that make them unique from each other. But what is the significance of both these platforms in the eCommerce market? Here is an overview of both of these platforms to help you find out more about Magento vs Shopify.
Let's find out what Magento is…
Magento is one of the top eCommerce platforms that come with numerous features and benefits. It has been around for a long time since it was first launched in 2008. As of 2021, Magento holds a 2.32% market share among the leading eCommerce platforms and technologies (as shown in the below image). For many businesses Magento web development is a promising way for creating robust online stores.
Though Magento is an open-source platform, it is the community edition or Magento CE which is free and open source. Another edition of Magento is Magento Enterprise Edition which is paid. Magento 2 was launched in 2015 to solve some flaws of Magento 1.x and to provide new features, and Magento Community Edition is now Magento 2. Currently, Magento 2 is the viable version of Magento available out there.
Let's see where Shopify stands…
Shopify is a major eCommerce platform for those who prefer uncomplicated solutions for creating an online store. Indeed, it is a user-friendly platform that allows creating websites in a few mouse clicks. Merchants can sell various things on a Shopify store, including physical products, digital products, consultation and services, and memberships. They can even sell products in person with Shopify POS.
It has been around since 2006 and powers lots of eCommerce stores with 3.69% of market share among top eCommerce platforms and technologies (as shown in the below image). Unlike Magento, Shopify is not open-source, and it is entirely a paid platform that comes with numerous pricing options.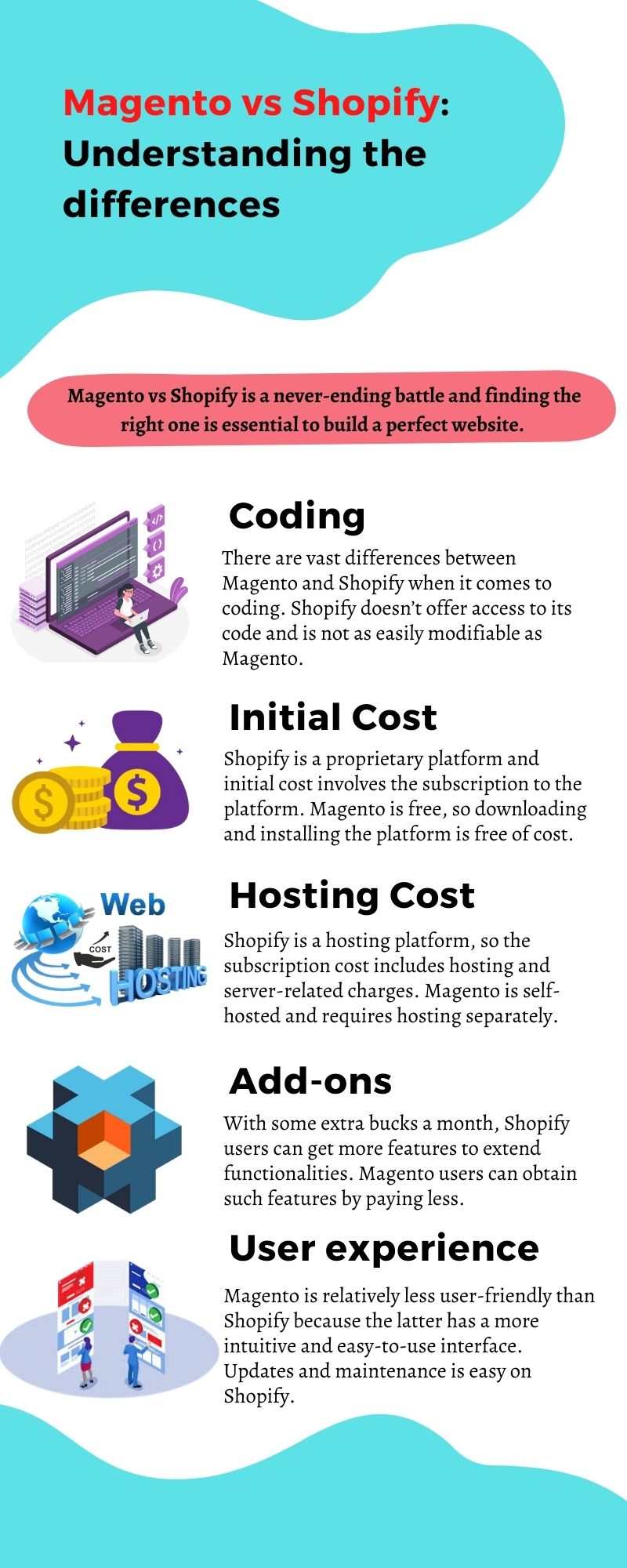 What is Shopify Plus?
Shopify Plus is another level of Shopify, which is a cost-effective platform for enterprises. While Shopify is a perfect solution for small and medium businesses to create elegant online stores, Shopify Plus comes with great additions that make it an ideal choice for enterprises. Simply putting, it means Shopify is for small and medium businesses, and Shopify Plus is for enterprise-level companies.
Shopify Plus comes with access to new features, dedicated support options, the underlying code of an online store, and much more. It also offers more flexibility compared to Shopify that has limited options for customization. Indeed, with Shopify Plus, customization becomes more accessible and profound. You can hire dedicated Shopify developer to create a well-customized website with Shopify Plus for your business.
So, what would be your choice?
As you must be wondering, there are different options available to you when it comes to Shopify vs Magento. However, suppose you are a big enterprise and want to choose between these two eCommerce platforms. In that case, Shopify Plus vs Magento Enterprise will be your dilemma as they come with more flexibility for developing websites.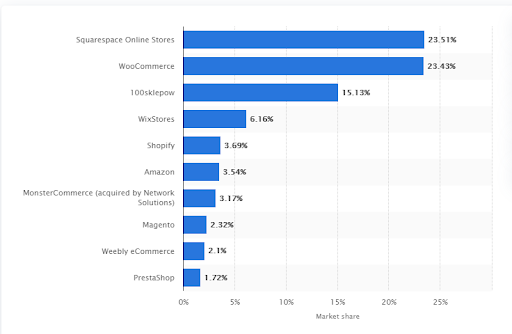 Magento 2 vs. Shopify: The Differences
Before diving deep into whether Shopify is better than Magento or vice versa, we should look at the differences between these two eCommerce platforms. Although both of these platforms have a common function from the eCommerce perspective, there are many major and subtle differences that need to be understood to make a clear distinction.
The following are the key differences between these two eCommerce platforms:
Coding
Shopify and Magento 2 are vastly different in coding and the amount of knowledge needed. While Magento 2 is powered by PHP server-side scripting language, Shopify uses Liquid coding language. Further, Shopify is a proprietary platform that means its code is protected and not readily available in the public domain. Magento 2, on the other hand, is an open-source content management system that anyone can use along with access to its source code without any commercial license.
Coding language is significant for any website platform because it determines what you can do with it. Open-source platforms make it easy to modify the code and create a deeply customized solution. But it can't be done with a proprietary platform. Hence Shopify can be a good choice for simple stores, but Magento is ideal for creating more complex solutions.
Cost
When choosing the right eCommerce platform, the cost is one of the most important factors to gauge your choices. We have split up the potential cost here to bolster your understanding of the cost.
Initial Cost
Shopify is a SasS (Software-as-a-Service) software that means users can access Shopify by paying monthly or yearly subscription fees. Users can try a 14-day free trial and subscribe to a package according to their needs when satisfied. Basic Shopify starts with $29 that rises with higher packages. On the other hand, Magento Community Edition is free, and no subscription is required. However, Magento Enterprise is paid for, which cost depends on your specific needs.
Hosting
Shopify is a cloud-based solution, and it comes with everything, including hosting. It means, when you subscribe to a Shopify plan, you have an eCommerce store that is completely hosted on Shopify itself. In the case of Magento, you need to look for a reliable hosting provider because it is self-hosted, and you need to pay for hosting and domain.
Add-ons and Extensions
The chances are that the basic online store will not meet all your requirements, and you will have to use extensions or add-ons to get more functionalities. Shopify users can get more features by paying more a month like advanced reporting, abandoned cart recovery, gift cards, etc. Magento users can access such features for significantly less in a year.
Additional Charges
Shopify charges extra on transactions made through third-party payment gateways like PayPal, Braintree, Authorize.net, etc. The complex nature of Magento can be a factor in the higher cost of development.
User Experience
Creating and maintaining a website can be tedious for a layman. Hence, as a website owner, if you are going alone to develop and maintain your site, you want to choose an easy platform to use and maintain. So, can you weigh Magento vs Shopify in terms of user experience?
There is a consensus that Shopify is easier than Magento that makes it relevant for non-tech users. Magento comes with ready-made extensions that simplify a lot of things. And Magento 2 offers a user-friendly admin panel that is easy for new users to get a grip on the platform.
Community and Support
Another advantage of Magento is its vast and active community. There are lots of developers, enthusiasts, and other stakeholders who support this platform. Consequently, you won't face any difficulty finding capable developers for your eCommerce development project. Similarly, you can find reliable support from these people to get rid of varied technical issues. Shopify has decent community support. However, 24×7 technical support from the Shopify team is the advantage of this platform.
Which companies are using these platforms?
Many companies are using Magento or Shopify platforms depending on their business needs. These companies include some of the top brands, including fortune 500 companies.
Here are some notable companies using Magento 2 platform:
Landrover, Liverpool, Nestle Nespresso, Jaguar, Olympus
Some notable brands using the Shopify platform include:
Heinz, Red Bull, Holland Cooper, Nescafe
Is Shopify right for you?
Shopify is one of the cutting-edge solutions for creating eCommerce websites to meet modern-day business needs. What is more catchy about this platform is the ability to create and customize eCommerce stores without coding knowledge. It helps create robust online stores to sell through multiple channels like web, mobile, pop-up shops, social media, and online marketplaces. It can be a perfect choice for a small and growing business. Shopify Plus is a platform for enterprises that are large-scale and growing online.
Here are basic features of Shopify:
Web-based website builder.
Mobile commerce ready
Hosting and domain included
Free SSL certificate
Dropshipping capabilities
Analytics
Multilingual platform
Accept credit cards
Shopify and Shopify Plus are undoubtedly some of the top eCommerce platforms with excellent features and benefits. Shopify caters to the needs of small and medium businesses, and Shopify Plus is the fittest choice for enterprise-grade businesses. You can also check out the complete Shopify Advanced vs Shopify Plus comparison to find the right Shopify platform for your business.
Shopify's Pros and Cons
Pros
Web hosting included: When you choose a Shopify plan, then you get many services, including the hosting and domain.
Affordable solution: Compared to Magento, Shopify is the least expensive option for essential eCommerce stores because there is no hidden cost and many rudimentary services are available with additional charges.
Easy updates and launch: Launching an eCommerce store is very smooth and hassle-free. Also, updating online stores is easy, and there is a guarantee of compatibility of the store after the update.
Cons
Limited customization: There is a high chance of ending with a one-size-fits-all-like website with Shopify because customization is limited to specific changes. Base code cannot be modified, and custom features are only integrated via Shopify apps.
Fees on payments via third-party processors: The platform imposes fees on transactions that are performed through third-party payment processors.
One catalog for one shop: With Shopify, you can run ten shops and even more with some fees. It fails to provide the same catalogs for various domains.
Shopify's Unique Selling Points
Ease of use: It is designed to be a simple platform for building eCommerce stores. Pages and products can be customized easily, and other functions can be performed flawlessly with the user-friendly interface it has.
Inclusive: It is managed via a single point of contact, and you can access and do everything in one place instead of doing it on multiple fronts.
Price: You will have to add to your Magento budget once going through everything; Shopify is comparatively less expensive in the short term.
Free themes: It offers many free themes to get started that require no coding, look modern, and have a responsive structure.
Is Magento 2 right for you?
Magento 2 provides numerous new functionalities, opportunities, and innovations that help your eCommerce store grow and serve customers better. It comes with some fundamental changes to the first publication of this content management system. Here are the significant enhancements in this platform:
Responsive design
Increased performance
Streamlined checkout
Modularity in both front-end and back-end
Easy extension updating
Simpler navigation
SEO-friendly web pages
Better testing and customization capabilities
Magento 2 vs Shopify, then choosing one is not difficult if you are looking for a scalable and flexible eCommerce platform. Magento has a clear edge in this aspect. It is more suitable for big eCommerce ventures as it holds the capabilities to serve that market segment more effectively. It comes with a sophisticated dashboard. By and large, we can conclude that Magento is an ideal choice for large-scale enterprises that have huge requirements. Check out the comprehensive Magento vs Magento 2 comparison to see which one best fits your needs and requirements.
Magento 2's Pros and Cons
Pros
No transaction fee: Regardless of which payment processor you use, no fees are required to pay when using this platform.
More customizable: Magento website users not only have control over the look and feel, but they also have access to the code, enabling them to modify it according to their custom web development needs.
Good for B2B and multiple shops: Same inventory catalog can be utilized across more than one shop. It is beneficial for B2B businesses as they need to provide different wholesale prices.
Cons
More hidden costs: Depending on the platform edition you choose, the price includes only the platform itself. The cost of hosting, hosting, domain, and other related charges are separate that you have to bear for a website.
Few integrations: There are not as plenty of app integration options as with Shopify.
Need more care: With every new update, upkeep becomes a hassle because you need to look for professional services to make your online store compatible with recent changes.
Magento 2's Unique Selling Points
Functionality: Compared to most of the eCommerce platforms, Magento offers incredible functionality that makes it a versatile option for merchants.
Expandability with extensions: Magento has more extensions than Shopify, which stand true to its promise of flexibility, scalability, and functionality.
Advanced shopping cart options: Shopping cart customization is an excellent benefit of Magento that makes a difference during a potential purchase.
Complete control over the platform: The total control over the platform removes all limits and enables developers to craft innovative solutions for clients with deep-level customization.
Magento 2 and Shopify: How Do They Compare?
Basis
Magento
Shopify
Pricing
Open-source (Free)
Paid
Worldwide ecommerce market share
About 2%
About 3%
Multi-store management
A single interface for multi-store management
Require more than one accounts for multi-store management
Installation
One-click installation

Manually installation will take around 5 minutes

A full-fledged online store can be launched in a few minutes
Ease of use
Relatively difficult to set up (3/5)
Beginner-friendly (5/5)
Cost
Free to install but have hidden costs
Everything is included in your plan including hosting.
Plugins/extensions
FREE

Official Plugins: 56,884+

2400 apps on Shopify
Themes/templates
FREE Official Themes: 8,700+

Premium Templates are also available at marketplaces such as ThemeForest, TemplateMonster, Elegant Themes, etc.

Official 100 free and paid themes.

Premium Templates are also available at marketplaces such as ThemeForest, TemplateMonster, Elegant Themes, etc.

Support
Community support is available. No reliable support for free editions.
Effective and reliable support from the Shopify team is available.
As you have noticed, both platforms have many similarities, and they also differ from each other in several other aspects. Each of these platforms offers many benefits to merchants in terms of design and the functionalities of their websites. The choice of one eCommerce platform ultimately comes down to your business goals and your budget. You can readily opt for Magento 2 if you have a large budget as well as want a platform that will scale easily as your business grows. If your budget is small and you want a platform that doesn't need maintenance, then Shopify is a perfect choice for you. Either way, you cannot end up with the wrong choice if you choose according to your requirements.