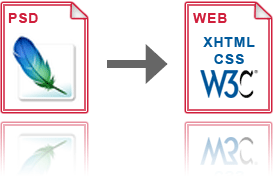 For creating a fully-functional website, a PSD based template need to be code and convert into high quality XHTMLmark-up language. By converting PSD based files into XHTML, one mainly add life into a web layout and helps in making it more interactive. Extensible Hypertext Markup Language (XHTML) came into existence in the year 2000. XHTML is a modified and refined version of HTML. Since, PSD format based files were not compatible with HTML and so, to raise its compatibility level XHTML has been brought in use. This application of standardized general markup language helps in creating highly user-friendly as well as SEO friendly web portals. On top of that, this upgraded version of HTML solves the problem of converting image file into XHTML or any other conversion.
The process of PSD to XHTML conversion is too easy and involves lots of steps. There one need a skilled XHTML developer. A highly professional programmer code and convert the PSD file into XHTML. First of all, a coder slice PSD files (extension to Photoshop documents) and integrate them into XHTML. Since, images and clips created by using Adobe Photoshop were not compatible with HTML language and overall quality of picture get distorted. On the other side of coin, XHTML enabled easy conversion of images without any distortion and dullness. So, programmer convert PSD files into high quality XHTML.
For proper PSD to XHTML conversion, a person have to hire a experienced web developer proficient in XHTML/ HTML/ CSS. One can outsource a web developer as per his requirement on full-time, part-time or hourly basis at affordable cost. So, choose the best professional for your project and get high quality results. Enhance the overall accessibility and functionality of your web portal.
you can visit https://www.csschopper.com/ to get more related article and blog stuffs.
Posted By: CSSChopper Team