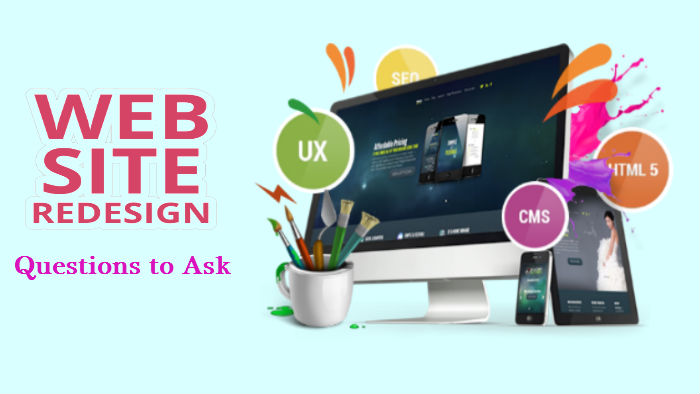 Trends change with time and so as we should to remain ahead of the curve. The inherent motto is to be the best among all your niche players to win the game. Website redesign is the predominant approach that is the savior for the distinguished businesses in this growth-oriented arena.
Website redesigning can be sometimes treated as the method of revamping your existing website to add some uniqueness. In other case, it might be a weapon to hold those visitors who are on the stake of denying from being your probable customers due to the lack of spark.
A website design is a fragile element that ages with time. This is the point where you genuinely need a new website with the old soul. You have the entire architecture already prepared that only demands a furnished coat of fresh elements. The only need is to scrape off old ugly stuff of outdated images and rebuild them with ultra-modern elements.
Website redesign is not as easy chore as it seems; hence one needs to be prepared with the answers of below questions to make a step further :
10. Why you need a website redesign?
Redesign not simply means to give a new structure to your website with new images and exciting colors. The entire foundation demands modifications that take time. So, you must be assured before making a final decision. If you merely think to revamp your website as it lacks few features as compared to a website that you have visited few minutes before, it is the time to rethink. Everything that shines, is not necessarily worth buying.
In the case of web development, moving to a different design might create compatibility issues. Amending the look and feel of your website is important, but it should not be the only reason to move for a fresh design. Precisely, web redesigning not merely means to add the coolest gimmick to your site. Rather, it broadly works to contribute for the sustainable growth of any business.
9. What kind of traits you want to embed into your site?
When you are planning to redesign your website, adding the advanced features and functionality is not an exaggeration. It is the actual essence of why you are looking for the change. These traits can be live chat options, social media feeds, video and audio capabilities and many more enhancements to give you an extra edge.
A noteworthy fact is, you should not put what you like, instead focus on what your customers are looking for. This should entirely depend on your business type and your taste. And, the service offerings with an intent that they should altogether bring you an exhilarating online experience.
 To Get Best Price Website Redesign Quotation

8. What is your USP?
Your website is the face of your brand and thus needs to be highly impactful to keep you at a remarkable place in the search results. This is the easiest way to push those visitors towards you who might move towards other companies of your niche that are offering the same products and services as you do.
Redesigning is the good way if you want to create that charm within you that makes you different yet better from the peers. You need to analyze the competition and use their site elements by keeping them in sync with your unique capabilities.
7. Is your website design easy to salvage?
No matter how well-designed your website is, it gets mature with time. There arises the need to put some freshness into it. If you have the same motto, you should think of adding the features without losing the originality of the existing design. The logic is, if you have good site elements, try not to lose them. Great visual hierarchy is one such important element that needs to be maintained with an open-minded approach.
Practically, there exists few good elements in your design and a clever mind ensures to keep all of them with honest efforts put to make them even better. From a merchant's perspective, each component of the site is an investment that needs to be done with utter care. Also, you should make the most for your business from the efforts that you have made.
6. Is there anything lacking in your current web design?
Everyone knows that content is the king and expresses a lot about who you are as an organization. It is actually the second thing that the visitors creates an impression from, after the external appearance of the site. When you made final plans for the website redesign, you should focus on the things that needs to be rewritten or even created from scratch.
This molding can be anything at a new page or any section of it. And, it might also be an alteration in the current page that you want to move to a new website. Filling these gaps surely results in moving everything at place and giving it a new shape.
5. What are your business goals and objectives?
Reading somewhere about redesigning and getting the same into your design seems interesting. But, it is not always all feasible for your brand. The thing is, you should notice if all the changes that you wish are genuine to make. In short, do they actually relate to your business. Your objective is to gain improved business results along with an optimized web identity.
Your business goals must be clearly portrayed towards the respective web development team so that they can work from heart to meet them. This is obvious because we are living in an era where getting the fresh features makes you eligible to survive for long. Else, there are countless rivalries who are fighting to throw you out from the race.
4. Who are your audiences and how they are reaching you?
The high-quality features of your website do not matter if your audiences are not grabbing them. The actual aura of your website must be in compliance with what your visitors desire and how they are reaching you. If the major demographic is teens, structure would be of their taste and not like something which a person with age over 40 will like.
Similarly, if the heavy portion of your visitors uses desktops, you should focus less on tablets, computers and tablets that are in tough reach of your targeted clientele. Vice-versa, if the traffic comes from the smartphones, you should optimize your work process accordingly.
3. Who are your competitors?
As a business owner, you should be aware of your competitors. The rigorous knowledge about your competitors helps a lot to stand out with the best results. It ensures you about the business strategies and helps you judge the behavior of the users who visit your site.
As a user, if you explore 3 websites with the same offerings, you can dismiss 2 of them with the least interesting features. And, pick the one that seems the most modern due to its pretty features, pricing and the explanatory content. That final website will be the one with all the good things. Your focus must be to be like the last one and not let your competitors taste that privilege.
2. Where do you see yourself in the next quarter?
Your vision and mission changes like the second's needle of a clock and it is the best thing as a business owner. A smart merchant will prioritize to measure his success with its new design produced from revamping. The future prospects for any business must be higher conversions, heavy traffic and in turn satisfied customers. These customers will love to come again to buy your services.
A close eye on what you desire makes you competent enough in your domain and you will succeed in the future. Change is the necessity to grow and one needs to follow this in its work culture. Website redesigning is the sole with which a business owner can expect better future results.
1. Is the CMS that you are using a relevant one?
When you are about to launch a website redesigning, the biggest question to answer is, which CMS are you using. It is up to your taste and benefits whether you love WordPress or want to move to Drupal. An attached factor here is to notice the expected cost and scope of the platform that you opt. Ideally, there must be extreme compatibility of the new CMS to the revamped website design.
A custom-built CMS is a fair deal where your website will run devoid of barriers. It is a win-win approach as you will save your money and your customer's time. Thus, you need web redesigning to get a better website.
Summarized Gist
Irrespective of the business domain, website redesign acts as a boon and offers polished results. The beauty beneath this concept is to evolve your website along with the improvements in product or services. If you want to avail the web redesign service from a known firm, CSSChopper is a perfect name. We have a proficient team of web developers who will transform your business at par with pretty web design tactics. For any query leave a comment, or tweet us @CSSCHOPPER.