5 key factors about PSD to HTML conversion service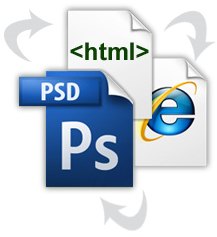 Summary: There are certain important key factors which an individual who is looking for PSD to HTML conversion service should be aware of. In this article, all the basic factors about PSD to HTML conversion service are discussed in brief.
From past few decades, an intense rise in the number of web portals is being witnessed which results in Websites Websites & lots of Websites on World Wide Web. This rapid pace of growth in number of sites simply raising the necessity of PSD to HTML conversion service. The main intent behind converting a PSD based file into predominant mark-up language HTML is to get table-less layout, easy accessibility and functionality, content usability, optimum visibility along with enhanced file management.
Every person is being well aware of this fact that PSD to HTML conversion service acts not less than a cornerstone of website as it add life into a well designed template. For effective coding of PSD based template into  high quality Hyper Text Markup Language, a person should be familiar with all the key factors about PSD to HTML conversion service. Below, some important aspects about PSD to HTML are discussed:
SEO Semantic Coding: Marking up a website with SEO semantic HTML tags plays very significant role. In broader sense, most of the search engines crawl more number of times on content rich web pages in order to extract readable text from HTML codes and this brings professional PSD to HTML conversion service into big picture.
Cross Browser Compatibility: With the presence of so many browsers like Internet Explorer 6, 7, 8, Firefox 2,3, Google Chrome, Apple Safari, Opera 9, online user is completely free to use a website in any of these browsers and therefore, it is necessary that your web portal should be cross browser compatible and runs efficiently on all the browsers.
Pixel-Perfect Hand Coding: Hand made work always get victory over machine made work in all terms. Due to lots of advancement in the field of conversion, there are various softwares available in market which can do effective coding automatically but semantic technicalities of softwares cannot effectively replace the hand made work of a skilled HTML designer. Therefore, one should always go for pixel perfect hand coding in order to achieve best results.
W3C Validation: World Wide Web consortium (W3C) Compliance valid XHTML 1.0 transitional and CSS level 2 transitional plays very effective role in detecting as well as checking mark up errors and help in designing a well formatted and structured web portal.
High Quality Codes: Slicing of PSD based templates and then, integration of sliced files into well commented, easily under-standable,  high quality, light weight and table less HTML codes holds prominent significance in web designing and development.
Due to stiff competition in the field of web development, the necessity of PSD to HTML conversion through professional web developer is gaining momentum and hereby,  became really indispensable. For cost-effective conversion, one should simply consider above discussed basic factors negligence to which lead a person in big trouble.
Posted By: CSSCHOPPER Team- Hire Dedicated Web Developer from #1 PSD to HTML  Conversion Service Provider.