There are certain important key factors that an individual looking for a PSD to HTML conversion service should be aware of.
Over the past few decades, an intense rise in web portals has been witnessed, resulting in an abundance of Websites on the World Wide Web. This rapid growth in the number of sites simply raises the necessity of PSD to HTML conversion services. The main intent behind converting a PSD-based file into a predominant mark-up language HTML is to get a table-less layout, easy accessibility and functionality, content usability, optimum visibility, and enhanced file management.
Every person is well aware that the service of PSD to HTML conversion is no less than a cornerstone of the website as it adds life to a well-designed PSD to HTML template. To effectively code PSD-based templates into high-quality HyperText Markup Language, a person should know all the key factors about PSD to HTML conversion service.
This article briefly discusses all the basic factors of PSD to HTML conversion and the approaches.
Important Aspects Kept in Mind While PSD to HTML Conversion
1. SEO Semantic Coding
When performing, conversion of PSD to HTML SEO semantic coding plays a significant role. Marking up a website with SEO semantic HTML tags is of utmost importance. In a broader sense, most search engines crawl more times on content-rich web pages to extract readable text from HTML codes, bringing professional PSD to HTML conversion service into the big picture.
2. Cross-Browser Compatibility
With the presence of so many browsers like Internet Explorer 6, 7, 8, Firefox 2,3, Google Chrome, Apple Safari, and Opera 9, the online user is completely free to use a website in any of these browsers. Therefore, it is necessary that your web portal should be cross-browser compatible and runs efficiently on all browsers.
3. Pixel-Perfect Hand Coding
Hand-made work always gets the victory over machine-made work in all terms. Due to many advancements in the PSD to HTML conversion field, various software available in the market can do effective coding automatically. Still, the semantic technicalities of software cannot effectively replace the handmade work of a skilled HTML designer. Therefore, one should always use pixel-perfect hand-coding to achieve the best results.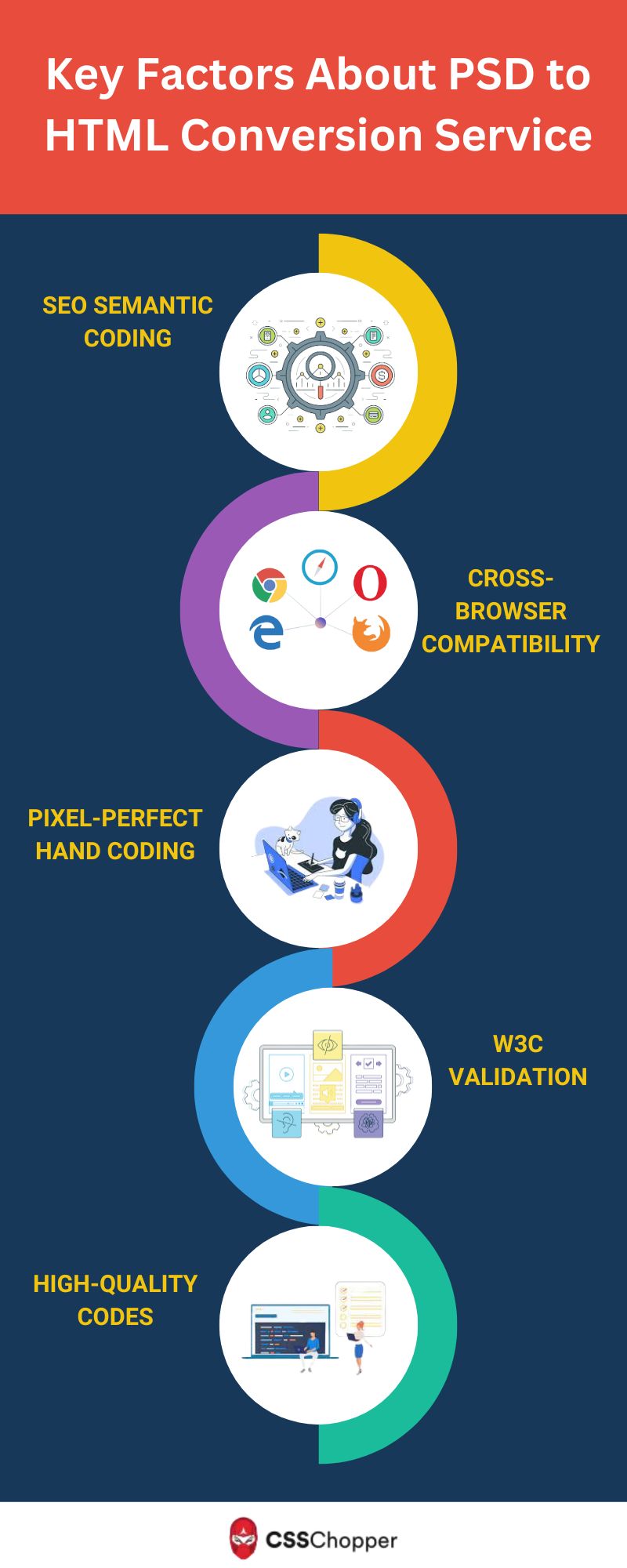 4. W3C Validation
World Wide Web Consortium (W3C) Compliance valid XHTML 1.0 transitional and CSS level 2 transitional plays a very effective role in the conversion of PSD to HTML. It helps detect and check markup errors and helps design a well-formatted and structured web portal.
5. High-Quality Codes
Slicing PSD to HTML templates and then integrating sliced files into well-commented, easily understandable, high-quality, lightweight, and table-less HTML codes are significant in web designing and development.
Read More: Everything You Need To Know About PSD To HTML Conversion
Approaches of PSD to HTML Conversion
Now, you have come to know the important aspects to be kept in mind while doing this. But without any approach, how will you implement this? Yes! That's why you must choose an approach that best suits your knowledge. Basically, two types of approaches are most suitable to your work.
Manually
Working with Experts
Let's Understand them.
1. Manually
If you have the required expertise to convert your PSD to HTML independently, you can go for manual conversion. It includes several major steps that involve slicing the PSD file into individual image files. After that, code them into HTML with the help of a text editor or an IDE.
Let me clarify that for manual conversion, you must pursue strong knowledge of the required languages. This includes the knowledge of HTML, CSS, and JavaScript to create a responsive, cross-browser-compatible website using PSD to HTML converter. This time-consuming process involves a lot of attention to detail and precision.
Let's understand the major steps of manual conversion:
The first step in the manual conversion is to slice the PSD files into individual image files with the help of Adobe PhotoShop or GIMP. This will separate the design elements separately, like images, graphics, and text, into separate layers.
Once the design is sliced, now you have to pay focus on the planning of the code. You need to make a proper plan for the code structure before starting the coding process. Based on your design, you decide the layout and structure of your website.
The base language in determining the layout of your website is HTML. This involves writing the HTML code from scratch. It includes writing the website's header, body, section, and footer section on your own.
So, you have written your HTML code from scratch. But, without any design, how will it look eye-catching? Yes! The next step is adding a CSS file to your web solution. This involves styling each and every section you have coded. You must add CSS styling to every element, from font size to the background color.
The next step is to add functionality to your web solution. This can be done by adding a JavaScript file to your web solution. This will be the final step of your manual process. Adding functionality includes form validation, slider effects, or other interactive features.
The last step remaining is to test it. If there are any flaws or glitches, it is the phase where you can resolve them. It is important to test the website thoroughly to ensure it is fully functional.
2. Working with Experts
If you lack technical expertise, there is no need to worry about that. You can choose an alternate method of working with experts. You can outsource your work to professional PSD to HTML conversion experts.  Remember that the one you choose for your project must have the necessary skills, experience, and expertise to convert PSD files to a fully functional HTML website.
Compared to manual conversion, partnering with experts can save you precious time and energy. It also ensures the quality of work. The professional team will use the latest techniques and tools to create a high-quality and cross-browser-compatible web solution. 
Read Also: Converting PSD To HTML – A Complete Quick Book
Conclusion
So, this is it! Now you have understood the key factors of PSD to HTML conversion. Also, you can choose the approach of conversion that best suits your expertise.
However, due to stiff competition in the field of web development, the necessity of PSD to HTML conversion through professional web developers is gaining momentum and hereby, become really indispensable.