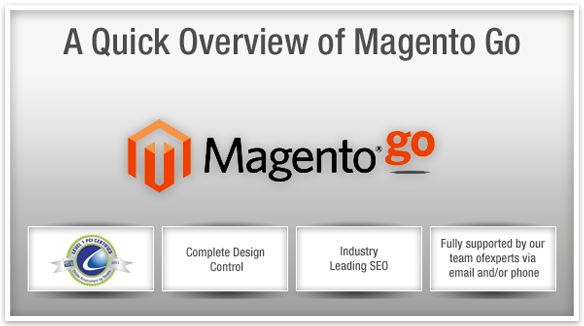 It's quite hard to choose the right eCommerce platform for your business type, but with Magento Go, all your eCommerce problems will be sorted as this works with both small and medium sized enterprise. Magento Go is a novice addition to the Magento's product line for enterprise, professional, community and mobile. This is a robust and flexible platform and becoming popular among developers and designers worldwide. With its Software as a Service (SaaS) feature that manages Payment Card Industry (PCI) requirements and offers a quicker process in setting up and maintaining web services.
Magento Go has all the qualities in itself to be the perfect platform for ecommerce website development to medium sized enterprise as it has expansion tools to expand your business internationally, flexibility on designing, superb technical support, multiple payment gateways solution and full fledge hosted solution to establish an online business. This new addition is providing many superb features including Paypal Website Payment Pro, Design Editor, Custom Products, Dashboards, One Page Checkout, Ship Works Extension, Real Time Rate Calculator, PCI Compliant, Bundled Products, Online Ordering, Google Site Maps and much more.
Magento Go offers four new and lucrative features that are very much likeable by the merchants. First one is its Registration and Prices, which offers four pricing ranging from $15 to $25 per month, plans depending upon the business requirement, bandwidth, domains and storage required. And registering you to this with easy process; one can easily register and login.
Another feature that has been added to this release is Theme Selection and Customization. Here Magento Go has offered easy to use interface & interactive Dashboard with intuitive navigation that was developed & designed in a way to provide simplicity to the entrepreneurs – for those also who have less web experiences can easily interact with the admin panel. Even this process offers tools for basic customization and can select attractive themes as per your choice.
With the next amazing feature, Product Entry; merchants can enter huge list of products by defining their attribute sets. One can easily include list of characteristics associated to that particular product. With the easy navigation to the product entry screen, one can easily add title, SKU, descriptions, short descriptions and weight and "Enable" them to show them on the external sites for products. This offers an overall uploading for products listing in bulk and allows an absolute product management.
Another superb add-on is the Payment Solutions, as it offers payment processing integration with PayPal. Now this makes quite easy way for entrepreneurs and merchandisers to take orders without any worry on payment mode.
Overall Magento go is a superb ecommerce platform, a bit complicated with other SaaS providers but it offers cutting edge and innovative features that makes it more competitive to other ecommerce platforms. This offers great features for small to medium sized business on a reasonable cost. So if you want to choose a right platform for your site then this is an absolute solution.
Posted By: CSSChopper Team