PSD to Magento Conversion: An Easy Way for Striking Web Portal!
Online business has become the trend in today's world. Everyone is looking for an online store, due to which, e-commerce has got popularity in a short period of time. Most of the business owners want to come online with their business. They may opt the PSD to Magento conversion to make their websites responsive and delightful.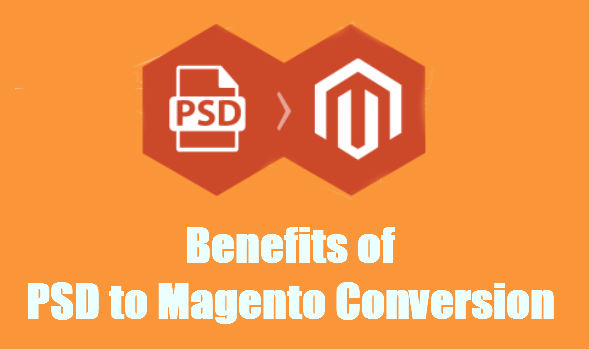 To do online business, they must choose the best design to make their websites more attractive and user-friendly. Forgetting the best design, they need to choose the best service provider. But, with the availability of multiple service providers, they may face a state of confusion. So, whichever company they select for their work, they must have made ample research.
What Exactly PSD to Magento Conversion Does?
There are numbers of developers who first create PSD design to make their websites more attractive then they convert the PSD files to Magento. After converting these files to Magento, they can enjoy all the benefits of this e-commerce platform. Magento is the best content management system and it is very useful for those who want to create their own online store.
Benefits of Conversion from PSD to Magento!
Choosing the Magento platform helps you develop the attractive and user-friendly e-commerce store. For selecting the best stage, one should need to know about the profit of the conversion service. There are so many benefits of this conversion. Let's have a look at these benefits.
It gives the limitless flexibility and scalability as we all know, PSD templates are not easy to use and not web compatible, so you require this conversion service to make your websites user-friendly.
By using PSD to Magento template conversion, you will get exact analytics and reporting because your sites will get high ranking on leading search engines like Google,Yahoo, and Bing.
You will get custom development and order tracking tool. If you use this service then you may get all the view of your websites and you can track the order what is the current situation now.
This conversion service gives Magento hosting which you can use to enhance the websites of your e-commerce store.
Once your website completes, you will need administration permission so it will be easy for you to get this access quickly after conversion service.
Why PSD to Magento conversion service is important !
We have already described that Magento is web compatible and it gives the flexibility to make your sites better. Therefore, to start any business, one should choose the best platform and if they choose the effective conversion technique then they will get the best advantages of this service. We are going to tell you the advantages of PSD to Magento conversion. You need a look at the following steps so that you can know why you need to choose the PSD to Magento service.
By using this conversion service, you may create the perfect pixel design for your websites because Magento codes are easy to use and it renders the way to create the perfect design. You may attach images and can use the JavaScript to make your sites dynamic.
It provides a dynamic way to upload any picture on your website so that it would be easy for you to upload any new image. Magento provides the best quality codes so that you can quickly upload all the images and get the websites more delightful and irresistible.
With the help of PSD to Magento template conversion, you may get speed optimization because Magento provides the way to add or remove functions as per demand or requirement. You may discard any unnecessary stuff from your websites if it is not needed.
Some Essentials of PSD to Magento Conversion!
Nowadays, e-commerce has been going so faster to increase the business performance online. To choose the best development tool, you can select the CSSChopper, as it renders the best way to improve the view of the website. This is the best company which has received the big names in the industry and it renders the excellent service to its user. It is the best development platform.
Conclusion
If you have read all the above points then you would be able to understand all the benefits of PSD to Magento conversion. To choose the best dynamic websites, PSD to Magento theme conversion is the best platform for you as you will get good performance and alteration. It is the smartest choice to pick this conversion service.
So that, do not forget to use the responsive service of PSD to Magento to get the best business deal. It is worth for you. You will get your websites at a high rank.