If you are planning to own a website for your business then the first task starts with choosing a CMS. Well, CMS is something on which the foundation of your website is going to build. A CMS provides administration tools that are designed to allow users to create and manage the website.
You should not randomly choose a CMS and start making a website. You need to search and find out which is suitable for you. Spending time in choosing the CMS is like sharpening your ax before cutting the tree. If you have landed on this page you are smart enough to prudently research and find the best CMS for your website.
The prominent ones are WordPress, Joomla, and Drupal. In this blog, you will be able to know the advantages as well as disadvantages of each one. Let us dive deep into this and get every issue resolved regarding the choice of CMS.
Here is Everything you Need to Know WordPress vs Joomla vs Drupal
WordPress
Originally launched in 2003, WordPress is now a multipurpose CMS. This software is designed for the one who is emphasizing performance and ease of use. This is such an innovative CMS that is used in millions of websites. One reason for the popularity of WordPress Website Development is that it works with minimum set up. Some prominent WordPress websites include websites of The white house and the University of Washington.
Advantages of WordPress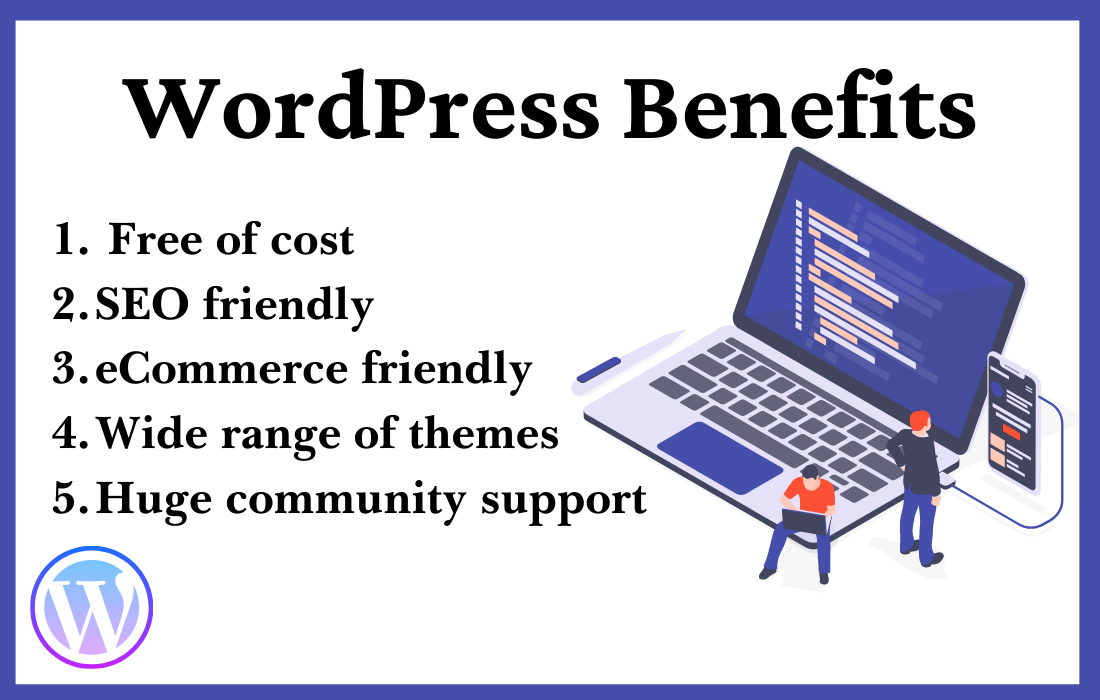 eCommerce Friendly
WordPress possesses robust eCommerce support. Plugins like MemberPress, WooCommerce, etc have made WordPress everyone's first choices for eCommerce development. If you search for a list of core features then they match with the requirements of eCommerce website development.
SEO Friendly
You know what, Google loves WordPress. WordPress is powered with great SEO plugin support like YoastSEO. These plugins can make any website rank good.
WordPress lives at the heart of developers. It has a vast community that means getting support will never be a hassle. The WordPress community is welcoming and inclusive. There are a plethora of highly skilled WordPress Development Company available that can give you the desired websites.
Let's Start a New Project Together!
Contact Us
Disadvantages of WordPress
Frequent Updates
You might think that why am I writing it as a disadvantage? Well, it becomes problematic when frequent updates cause compatibility issues with already installed themes or plugins. Sometimes the existing plugin or theme may crash. This results in the poor functionality of the website which may damage your performance in Google.
Vulnerability
WordPress being an open-source platform has its own vulnerability issues. WordPress websites are prone to hacking. Although if you are availing of the best WordPress development services then they can resolve these loopholes easily.
Also Read: How to Choose between Drupal and WordPress for Your Website Development?
Joomla
This goofily named CMS solution can be considered as a hybrid between WordPress and Drupal. It consists of the plugins like WordPress platform and the extensive development toolbox of Drupal. Joomla literally means 'as a whole' or 'all together'. This was the idea when they created this all-encompassing CMS.
Advantages of Joomla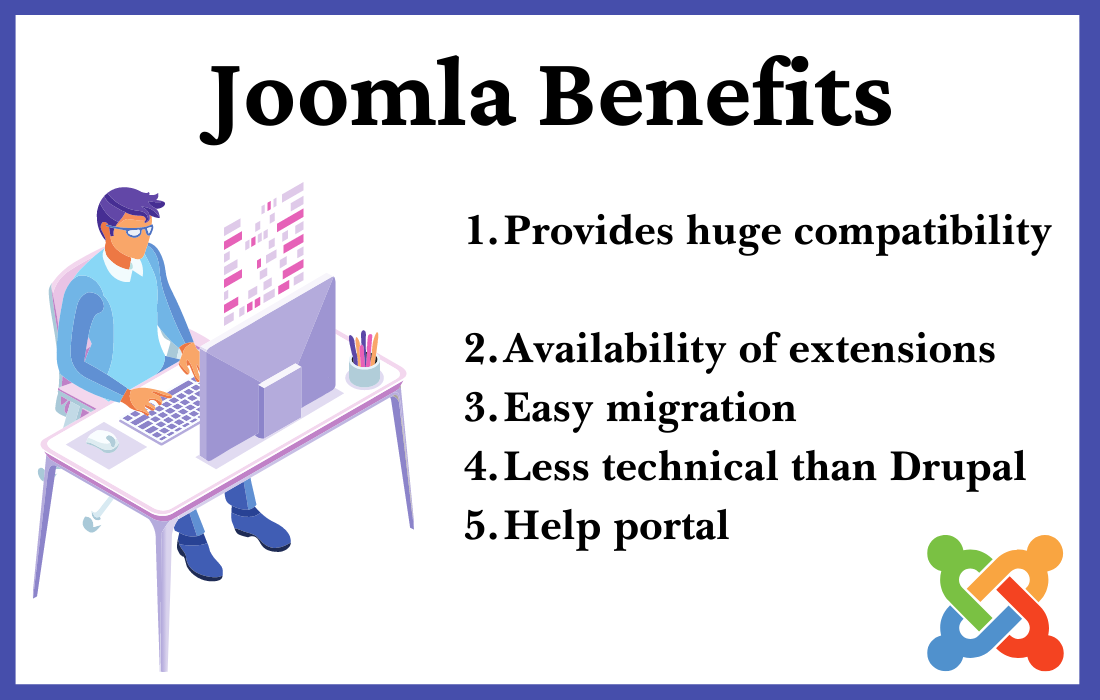 Provides Huge Compatibility
Joomla is exceptionally compatible. Since Joomla uses a complete PHP script that's the most common web development language. So using Joomla as a framework you will barely face any compatibility issues. A Joomla Development Company can harness these benefits in full swing and offer you an impeccable website.
Extensions Availability
Plugin or component of Joomla can provide a variety of functionalities that you do not need to install too many plugins/components in building your website.
Easy Migration
This CMS can be swiftly migrated to any of your desired servers. Well, that's a huge advantage of using Joomla as CMS.
Must read Why is Hiring a Web Developer The Best Choice For Businesses?
Disadvantages of Joomla
Issues in Browsing and Selecting Extensions
The extension library of Joomla lacks sophistication. Joomla has a lesser number of plugins and templates than WordPress. Joomla has a less inviting ecosystem of extensions. Although if you are availing of the good Joomla Website Development services then they will definitely eradicate this issue.
Scarcity of Options
Despite the reason that Joomla is known to have ample modules and templates, the adjustment options are very limited in number. For the users who are advanced, they will always find something missing.
Drupal
It is the most difficult as well as the most powerful CMS. Drupal is famous for its powerful taxonomy. It has wide scalability that you curate personal blogs to enterprise-level mega-sites. Want to know which websites have drupal as CMS? These are names like NASA, Harvard University, Tesla, etc.
Advantages of Drupal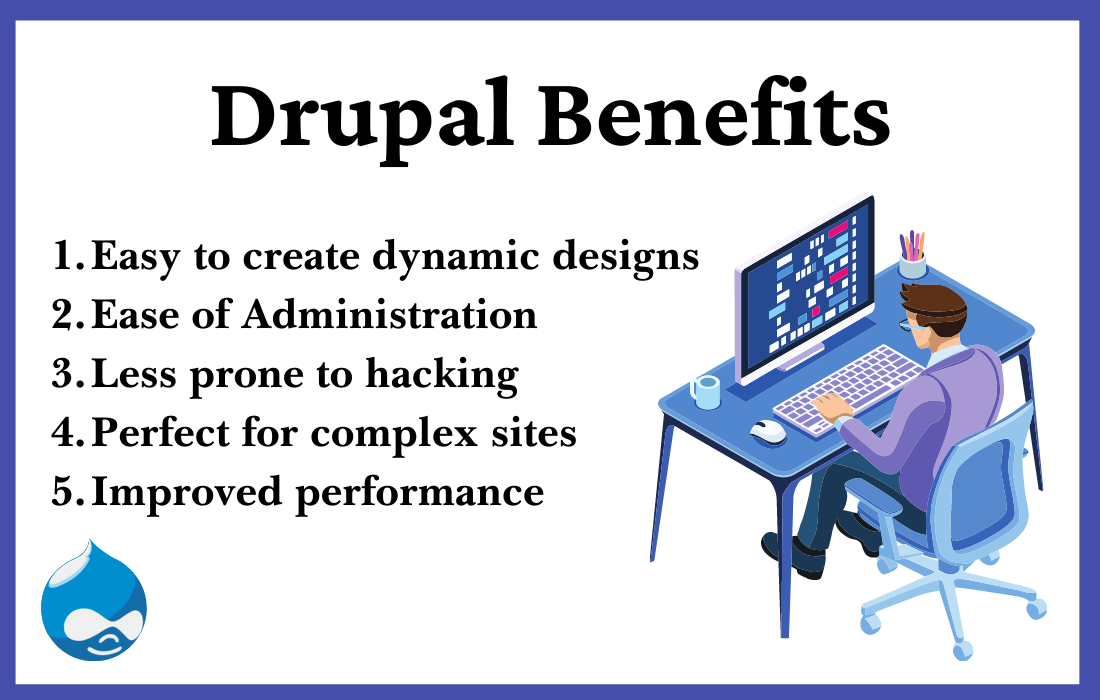 Easy to Create Dynamic Designs
The diversified range of themes and templates that Drupal offers can be used to create exceptionally dynamic and catchy designs. With drupal web development, one can enjoy the benefits of a unique looking and great performing website.
Ease of Administration and Controlling Website
Drupal gives you the feature of setting up a new user's account that can be controlled and administered by you. The latest version of Drupal has a myriad of new administrative functions that make it very comfortable to manage and control the website. The process of managing a site is very structural and comfortable with Drupal as CMS.
Content Variations
Drupal gives the freedom of incorporating different useful modules like videos, blogs, polls, etc. to make the site look more attractive and interactive. It also has the option of creating excellent content. Great content is always applauded by the users and the search engines.
Drupal is less prone to hacking attacks
Drupal has a serious approach to security. You can get information on vulnerabilities on the official site. It is believed that Drupal is extremely secure because one can't get news of the Drupal website getting hacked.
Disadvantages of Drupal
Non-friendly Installations and modifications
Drupal is not very easy to use. The other open-source platforms are way easier to use even for a layman.
Non-Compatible
Drupal is not compatible with various other kinds of software. Since it is a recently developed Content Management System and doesn't mingle with other software with ease. Although if your concern is security then a Drupal Development Company can render you a flawless drupal website.
WordPress vs Joomla vs Drupal: let us end the war
| | | | |
| --- | --- | --- | --- |
| Feature | WordPress | Joomla | Drupal |
| Ease of use | Very easy | Not too easy | Challenging |
| Support option | Extensive support | Available on the official website | Available on the official website |
| Security | Prone to hacking | Website security can be enhanced with custom Joomla web development. | Exceptionally secure |
| Add ons and themes | Abundant | A bit difficult to find the appropriate one | Limited |
| Multilingual and localization support | Multilingual functionality is possible with plugins in WordPress | Offers a straightforward method for creating multilingual sites. | Creating multilingual websites with Drupal is easy. |
I think this is clear to you till now that each of the CMS is unique in their own way. You have to ponder what are your requirements. Whether the attributes of the CMS are matching with your requirements or not. No matter whether it is WordPress, Joomla, or Drupal website development ultimately what matters is the development of a result-oriented website.
We here at CSSChopper are proficient in using any of these CMS. Your project of making a website is equally special for us as it is for you. We have served thousands of businesses to reach up to their goal. Our team of highly skilled professionals is well-versed in developing high-performance websites.