A business has to face numerous challenges and stand still to survive in this competition-oriented market.  One among them is selecting the right CMS platform for a business website. 
Content management systems play a vital role in enhancing the performance of a website. It helps a business manage and deliver content seamlessly. There are generally three types of CMS, such as custom, open-source, and proprietary-based CMSs.
However, the decision to select one among them for your business depends on your business needs and budget. You can either fetch it out to yourself or consult with a bespoke software development company. The experts will simplify the process of selecting the industry-oriented platform for your business. 
What is a Content Management System?
A content management system is mainly used to create, manage, and edit digital content. While this term is relatively broad, you can break it down into simpler terms.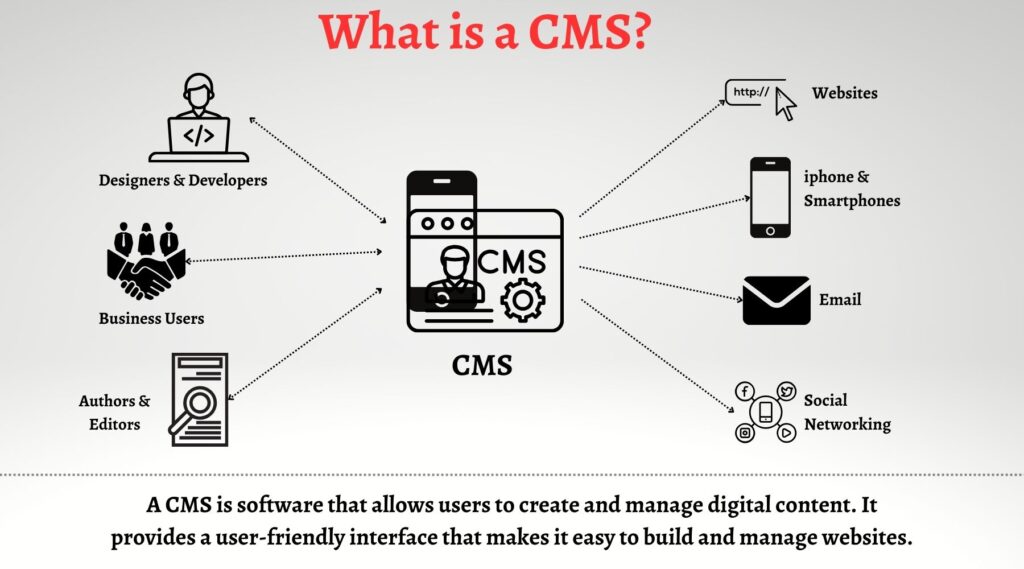 Simply put, a CMS is a tool that allows its users to manage the information of a website relatively easily, rather than just writing the manual code script. 
For the management team to run the site easier, a business should consider the following aspects of the CMS.
Based on these aspects, you can compare the three most vital CMS types and find the right one for your business.
Brief Comparison Between Custom, Open-source, and Commercial CMSs
| | | | |
| --- | --- | --- | --- |
| Points of Difference | Custom | Open-source  | Commercial CMS |
| Functionality | Tailored functionality based on the requirements of a business | It varies widely depending on the community support and available plugins. | Comprehensive feature sets with advanced tools and plugins for diverse business needs. |
| Speed | Speed can be fine-tuned as per the specific needs of a business. | It depends on the hosting environment and also on the community-contributed code. | It can be typically optimized for performance. |
| Security | Enhanced website security but requires diligent web development company and ongoing maintenance. | It is community-driven with updates and may require additional third-party security measures. | Offer robust security measures. |
| Customization | There is a high level of customization to meet the unique business needs. | Extensive customization options but require optimum support from the CMS development service provider. | Customization is limited as compared to other CMSs. |
| SEO-Friendliness | Can be tuned as per the requirements of a business. | It is highly dependent on the CMS you have chosen for your project. | It often includes built-in SEO tools. |
| Cost | It can vary depending on the level of customization and ongoing maintenance required. | Generally free-to-use, but costs may arise from themes, plugins, or expert team hiring for customization and troubleshooting. | Typically, it involves licensing costs, subscription models, and other additional charges for support and updates. |
| Support | Limited community support, development driven by client needs | Active community support, extensive plugins/themes available | Paid support from the vendor. |
| Examples | Custom CMS built by a web development company | WordPress, Drupal, Joomla, etc. | Sitecore, HubSpot, Shopify |
Custom CMS vs. Open-source CMS vs. Commercial CMS
Three of the mentioned (custom, open-source, and proprietary-based CMS)  have diverse approaches towards the same goal, i.e., website development. However, there are some considerable advantages and disadvantages.
1. Custom CMS
A custom CMS is being developed based on unique business requirements. A web developer can utilize various programming languages like PHP, Python, ROR, Laravel, and so on.
When a business hires a custom website development company for a project, it describes what exactly they need for the project, and the provider builds.  This includes all the things a website contains, from features and functions to its appealing design. 
| | |
| --- | --- |
| Advantages of Custom CMS | Disadvantages of Custom CMS |
| Tailored Functionality  | Higher Cost |
| Complete Control | Development takes time. |
| Enhanced Security | Paid Modifications |
Advantages of Custom CMS
1. Tailored Functionalities
One of the standout features of custom-based CMS is its tailored approach. A business can use bespoke features and functionalities tailored to your requirements. This ensures a seamless user experience and efficient management of the content.
2. Complete Control
When you develop a website from scratch, you have complete control over the ownership of each and every digital asset included in your website. Unlike other CMSs where aspects like licensing issues, restricted customization, etc., arise, custom CMS provides unrestricted control over the architecture, design, and functionality of the website.
3. Enhanced Security
A secure web solution is of the utmost importance, as it can protect businesses from a variety of cyber threats. You can develop a website with a custom CMS, incorporating security measures to protect your data and assets.
Disadvantages of Custom CMS
Developing a custom CMS website requires a significant investment of money. Creating a website based on the exact needs of a business will take time for a web development company to understand. After understanding what your project requires and how much it will cost, they will start working on it. This is a bit high, but custom CMS allows you to develop personalized web solutions.
Custom development requires development from the ground up. This means that every aspect of the website, from the simple button to the most complex navigation system, must be created from scratch. This results in the investment of significant time and effort, especially compared to other content management systems (CMSs) that allow users to create websites with pre-built templates and components.
2. Open-source CMS
Another category of content management systems that are most popular is the open-source CMS.  It means the CMS is free to use without any worry about license fees. 
Simply put, these are content management systems with their source code freely accessible to the public. This encourages collaborative development, leading to a vibrant community of developers, designers, and users contributing to the growth. However, when it comes to fully utilizing the potential of an open-source CMS, opting for CMS development services is the wise decision. 
| | |
| --- | --- |
| Advantages of Open Source CMS | Disadvantages of Open-source CMS |
| Cost-effective  | Integration challenges |
| Highly Customizable | Manual updates and maintenance |
| Freedom of Choice | Security Concerns |
Examples of Open-source CMS
The major examples of open-source CMSs are WordPress, Joomla, Drupal, Magento, and so on.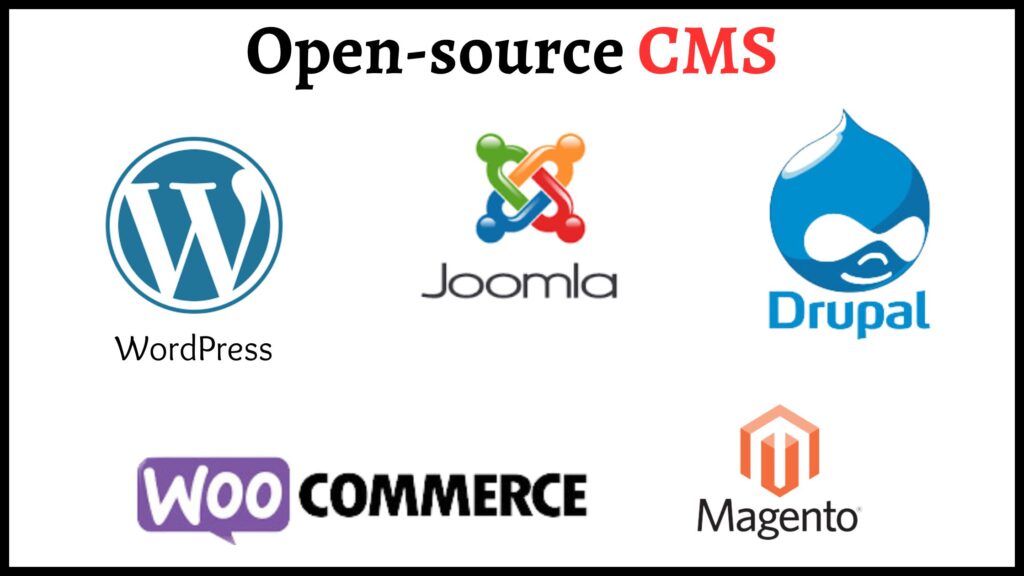 WordPress is one of the most used and, without any doubt, the most preferred and used open-source CMS.  It is renowned for its user-friendly interface, vibrant community, and extensive library of plugins. This was originally developed as a blogging platform, but over the years, the WordPress development environment has evolved into a versatile content management system suitable for various websites.  Users can create from a personal blog to a service-based website over this platform.
This website development platform has the most potential among users. From the boasting of advanced features to enhanced customization options, Joomla provides a range of features suitable for developing high-end websites. A business can create simple to intricate websites tailored to the business needs, like social media websites, eCommerce websites, etc. 
Drupal is a remarkably flexible CMSs that stands out among various open-source options. The modular architecture of this CMS helps develop sophisticated websites or web applications per a business's standards. Drupal is the right choice for creating a versatile web solution if you are a business that deals on a large scale. Opting for Drupal CMS development services is a wise decision based on the complexity of the platform.
Popularly known as Adobe Commerce. This platform stands out as a specialized platform for developing eCommerce websites. It is known for its high-end scalability and security. A business can create a personalized online store depending on the requirements of a business. This is the right choice to develop a top-tier online store that offers enhanced growth opportunities.
Powered by WordPress, WooCommerce is one of the most used eCommerce platforms. This popular plugin helps develop a feature-packed online store like the WordPress environment. The seamless integration empowers the standard websites to evolve into complete eCommerce stores. With various features and themes, it emerges as the right platform to develop a highly scalable and versatile online store. 
Advantages of Open-source CMS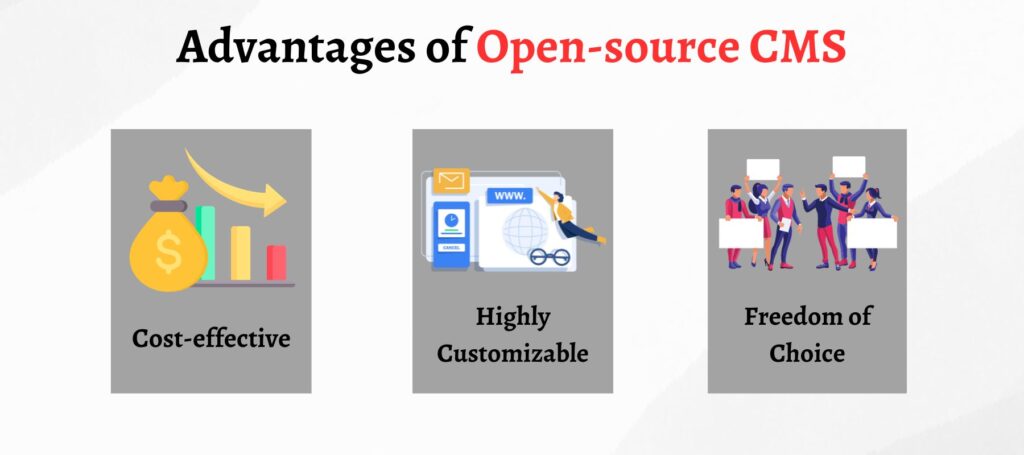 1. Cost-effective
One of the primary advantages of open-source CMS is that it is usually free to use. This means there are no licensing fees, making it a cost-effective option. However, apart from this, a business has to incur other costs associated with the process of creating a website.
2. Highly Customizable
These CMS types are highly customizable. Users can access the source code, allowing them to tailor the website as per their business requirements. This flexibility is particularly beneficial for a business with unique content management needs.
3. Freedom of Choice
Users are not locked into a specific vendor or proprietary technology. They have the freedom to choose hosting providers, third-party integrations, and developers, fostering a more open and adaptable digital ecosystem. 
Disadvantages of Open-source CMS
This is one of the cons of using open-source CMSs for your project. Integrating third-party plugins or extensions may not always be seamless. A business has to face compatibility issues that can arise, leading to additional development efforts or the need for custom solutions. The wise decision here is to partner with a website development company that can seamlessly develop and integrate the plugins the way they should be.
While updates are essential for security and feature enhancements, the responsibility for applying these updates falls on the users. If a business fails to keep the system updated, this might lead to security vulnerabilities. 
Commercial CMS
These proprietary-based CMSs come with various features and often provide dedicated support services. These are developed, sold, and maintained by specific companies, and to access their functionalities and features, a user typically has to pay license fees. Commercial CMSs are known for their user-friendly interface, robust feature sets, and professional support. This makes them the popular choice for businesses with varying content management needs. Some examples of Commercial CMSs are 
Adobe Experience Manager

Sitecore

Shopify

Kentico
| | |
| --- | --- |
| Advantages of Commercial  CMS | Disadvantages of Commercial CMS |
| Ease of use  | Higher Cost |
| Integrated Features | Customization Restrictions |
| Scalable Websites | Dependency on Vendor Support |
Pros
In comparison with open-source or custom CMSs, these are easier to use. These often prioritize user-friendly interfaces, making them highly accessible to users with different levels of expertise.  
You do not have to rely on third-party integrations to improve the overall functionality of your website. It is because these platforms often come with a comprehensive set of features. This simplifies the development process and provides a more cohesive user experience.
Commercial CMSs are designed to handle the needs of a wide range of users, from small businesses to large enterprises. This makes them suitable for organizations with evolving content management needs.
Cons
Cost is the most significant drawback of these CMS types. A business has to pay for licensing fees, subscription models, and other additional charges for support and updates. This makes them more expensive, especially for small businesses or individual users. 
Customization Restrictions
While these CMSs offer a range of features to a business, restricted customizations are one of the significant cons of using these software types. You are not bound to make any further changes in the source code of these CMS like it can be done in open-source CMS. This restricted flexibility challenges businesses to tailor the system to their needs. 
Which is the Best CMS for Your Business?
Opting for the right Content Management System (CMS) is critical for a business to establish and maintain a robust online presence among custom, open-source, and commercial CMS. This depends on various factors, including specific requirements, budget constraints, and the level of control you want.  Here, we'll explore three scenarios to help guide decision-making.
A. When Should you opt for Custom CMS?
A custom CMS helps create a unique design and user experience for a business with a distinct brand identity. This is the right choice when you want to perfectly align your brand's aesthetics and values in your web solution.
Organizations with intricate content workflows or unique content management requirements may benefit from a custom CMS that aligns precisely with your business requirements.
While the upfront cost of a custom CMS can be higher, this can be a cost-effective solution in the long run.
B. When Should you opt for Open-source CMS?
Open-source CMS is the right choice, especially if you are a small business or startup with a limited budget.
The open-source community provides continuous support, updates, and various plugins. This flexibility is valuable for users looking to modify and extend their CMS based on evolving needs.
C. When is Commercial CMS Suitable?
With a dedicated support team, a business should ensure timely assistance and updates to address security concerns. This CMS can be crucial for a business with high data sensitivity.
When scalability and seamless integration with other enterprise systems are key priorities, a Commercial CMS may offer the necessary infrastructure and compatibility.
Certain industries like healthcare or finance may have strict compliance regulations. Commercial CMS solutions often come with built-in features to help adhere to these regulations, saving time and effort in customization.
How can CSSChopper Help you?
Finding the right content management system (CMS) for your business can be time-consuming. CSSChopper can help you streamline the process of selecting the right CMS. As a skilled website development company with extensive experience, we have helped numerous businesses get started quickly with our expert consultation services. With our decade-old experience, we have helped numerous businesses to shine in this burgeoning market. 
Our team will first evaluate your business needs, and based on that, we will help you select the right CMS for your business type. A website developed on an appropriate CMS helps enhance your business presence. Our agile development methodology and client-oriented approach can help you stay competitive.