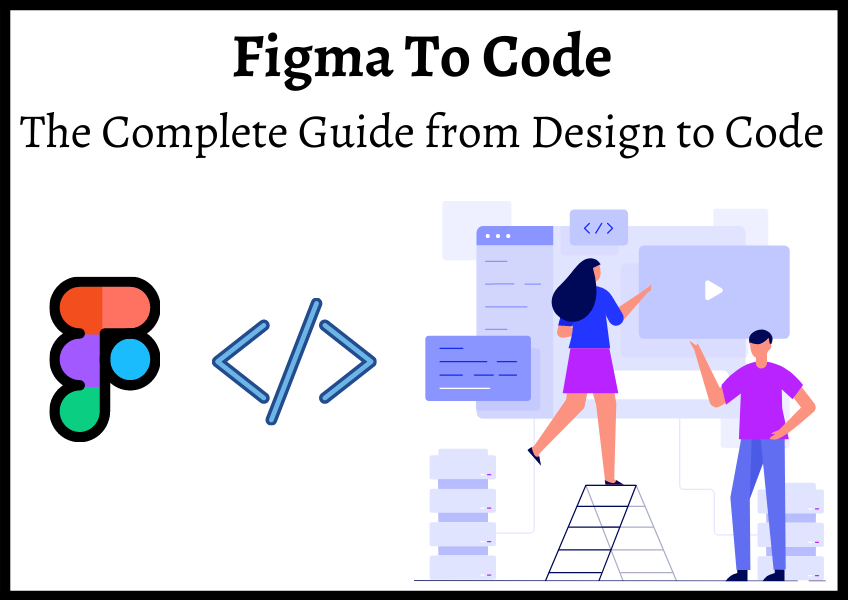 6
mins read
An exclusive website has become the necessity of every kind of business today. So, entrepreneurs are making hefty investments in website development services. However, developing a unique and attractive website isn't a cakewalk and you need proper brainstorming before you jump to your development tools.
A quick prototype or initial design of your site can be the best way to envision your idea of a new website. These days different tools are popping up to allow you to visualize your website idea in the form of a design and Figma is one of those great tools. It comes with excellent features and an easy and straightforward user interface.
By using Figma, you can shape all the ins and outs of the desired website then look for a reliable technology partner to convert it into a live website. Many web development companies are offering Figma conversion services such as Figma to Shopify to create a pleasing eCommerce website.
What is Figma?
Figma is a popular web-based graphics editor and prototyping tool. It comes with many additional offline functionalities that are supported by desktop apps on Windows or macOS PCs. Figma also comes with an edition for mobile devices allowing users to see Figma prototypes on mobiles. It is a powerful tool to create user interfaces for websites and apps as well as to create wireframes for apps and websites. Moreover, it is widely used for many things like prototyping, social media post design, and so on. Developers use it to create attractive websites with the process like Figma to Magento or conversion to any other platform.
Figma to HTML: A premier choice for design to code
When it comes to Figma to code, converting it into HTML is a premier choice. With this method, you can get quality HTML and CSS code. This conversion process gives you a lot of flexibility for creating the right website for your business. You can build a perfect prototype of your site and then give it to a Figma to HTML conversion company to code the design with perfection. However, if you wonder how to convert Figma design to HTML and CSS manually yourself, you can follow the steps below. The following are the steps for performing the conversion easily.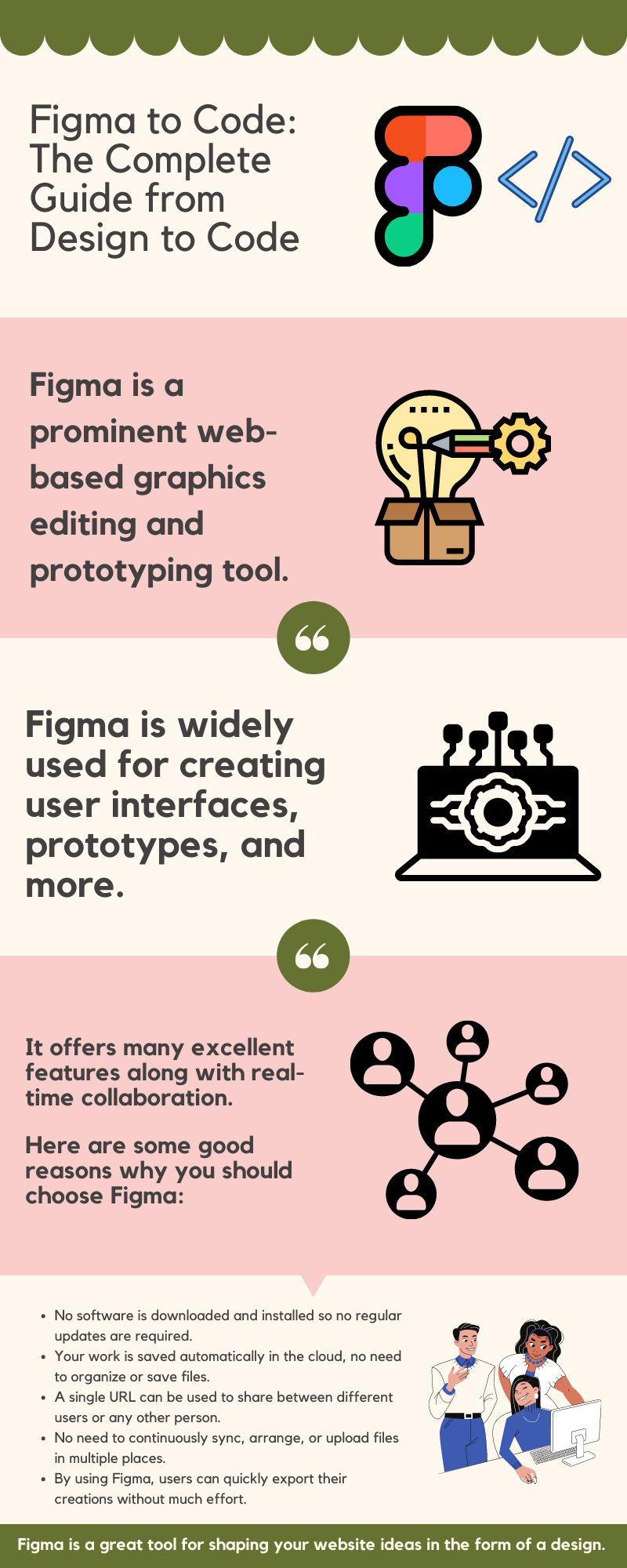 What are the ways of Figma To HTML code conversion?
We have already discussed the Figma to code conversion and it is the same for Figma to HTML. So, there are different ways to convert Figma design into HTML and CSS. One way is to export the code from Figma, and the other way is to do the conversion using third-party plugins or apps. Both ways offer a convenient way for converting the design files into code because you don't require the knowledge of coding or any specific technology. For the process, you need the following things:
Your Figma prototype or design.

Account details.

Plugin/third-party app, if you want to use it. 
3 Ways to Export Figma Design to Code
Once you have prepared your Figma design, the next step is to convert this into code. Before the conversion, you first need to understand your requirement. You might be trying to convert the file to plain HTML code or your need is to build a custom website theme for WordPress, Magento, Shopify, or any other CMS. You can export Figma then create a theme for your site. This way you can convert Figma to WordPress or any other platform. Here are the 3 ways to export.
#1. With Figma Inspect
It is a great feature in Figma that you can utilize to convert design elements into code. It offers several options of conversions like Swift for iOS, CSS for web, and XML for Android. By simply selecting the desired element, you can easily convert it to code. Being an in-built feature, you don't require any additional third-party tools. Hence exporting design to code is easy with Figma but some restrictions do apply like it can't export SVG to HTML. You can generate the code with this method for the desired elements.
#2. With Figma Plugins
Lots of plugins are available for Figma users that simplify several functions. Figma plugins can make everything easy from designing to exporting. You can choose from a huge array of 450+ plugins. One popular plugin that allows converting Figma to HTML is the HTML Generator plugin. You can utilize this plugin to convert the Figma design to HTML and CSS code. By simply selecting any element, you can see the HTML for it. Once you have the HTML and CSS, you can then do the conversion for a CMS and indirectly convert the design to a theme. For example, you can convert Figma to PrestaShop using this technique.
#3. Third-party Export Tools
Besides using in-built features or a plugin, you can also perform Figma to code conversion using a third-party tool. There are several tools available in the market that allow exporting Figma design to code. Supernova is a popular third-party tool to export Figma into code. You can create HTML and CSS code using this tool easily. Bravo studio is another useful tool to export.
What is the Best Method to Convert Figma to Code?
Although you can easily convert Figma to HTML code using plugins or third-party tools, that's not an efficient way. Plugins or tools may not provide accuracy and quality just like a developer can do. So, the best way to convert the Figma design to HTML and CSS code is with the help of a developer. Being an expert, the developer can create hand-coded, high-quality, and standards-compliant code for your website.
Business Benefits of Figma To Code
If you want to create a new website for your business, Figma to code can be the best way to get an excellent website. You can opt for the Figma to HTML process that allows you to first visualize your future website in the form of a design and then convert it to quality code to create the final website. It is one of the best ways to create a customized website as per your unique requirements. You can create a unique Figma design for your site, and then professional developers can create a one-of-its-kind website from it. Therefore, converting Figma to HTML/CSS is an excellent option when it comes to creating a top-notch website for your business. 
Figma to code: What is the Cost?
If you use a Figma plugin or a third-party tool for converting your design to code, you will have to bear some costs because many of them are paid. You will also have to pay for the service if you choose to hire a web developer to perform the conversion. But if you choose an expert you can be assured of the quality and its cost depends on many factors which are as follows:
Page count:

It is an important factor for cost. More pages on your site will add more cost to your project.

Expected turnaround time:

Turnaround time and cost have an inverse relationship. Your cost may go up if the deadline is too short.

Add-on features: If you need any additional features, the cost will go up with the number of such functionality.
So, the above-mentioned are a few factors that affect the cost. All in all, the cost of converting the design depends on your project, requirements, and the type of service you choose.
Characteristics that are taken into consideration by CSSChopper while delivering the project
At CSSChopper, we have highly experienced and knowledgeable HTML developers who can create standards-compliant and quality code for your website. They can convert your Figma design to HTML with the best approach and deliver the solutions on time. Here are the benefits of choosing our service. 
Pixel-perfect conversion:

Our developers use the best tools to ensure that the result looks exactly like the Figma design you provide to us when they perform the conversion. 

Cross-browser compatible:

We take strict quality assurance measures, and our team makes sure that your website will function and display appropriately on compatible web browsers and devices.

Semantic markups:

Our developers create semantic HTML markups that provide better readability for search engines. 

Modern workflow:

We use tools and frameworks that use modern front-end development workflows Less or SCSS. 

Fast-loading:

Using CSS sprites and other optimization, we reduce the number of HTTP requests to increase website loading speed. 

Standards-compliant code:

We adhere to basic accessibility principles and ensure HTML and CSS validation and make sure to create standards-compliant code.

Well-formatted and clean code:

Our developers create well-formatted code with proper commenting that will help understand the code's flow and make it readable.
You can rely on our Figma to HTML conversion services to create a top-notch website for your business. We will deliver the best work on time.
Final Note 
The use of graphics editing tools has become one of the important aspects of creating exclusive web-based solutions. Having a proper layout of your website or web app beforehand makes a big difference when it comes to creating the one. With the help of these tools, you can craft the interface of your website and then choose a reliable web development partner to get the real website created based on that design or prototype. You can utilize this tool to create effective prototypes of your website. It is a user-friendly tool that one can use to craft outstanding Figma designs quickly and easily.
Frequently Asked Questions
You can take advantage of varied plugins to export Figma to HTML code. Plugins like Figma to HTML and HTML converter help convert the design to code precisely and conveniently. It requires good coding guidelines to convert the design to a replica in code.
Yes and no, it is a free online tool for creating UIs but with some limitations. However, if you want to get complete control, you can use the paid version of the tool. It is a popular UI tool to create, collaborate, and prototype.
Yes, you can utilize Figma Inspect, a great feature built into Figma to help convert any design element into code. You can choose from many options to convert the design into XML (Android), Swift (iOS), CSS (Web) conveniently. Simply, you need to select an element for this
As a web-based UI design tool, Figma consists of excellent features for creating designs and prototypes of websites or apps. It helps you to visualize your site so that you can get coded with a design to code expert. It offers a cost-effective and collaborative platform for building website designs.