Rumors exist in every sphere of life. The web development industry is no different. If you aim at getting a competitive website, it is crucial to be well-aware of trends. This helps in making informed decisions. According to a popular rumor, many people believe that PSD to HTML is dead.
We have written this blog to find the truth behind this. Is PSD to HTML dead; a myth or a fact? When it comes to speculations about a dynamic industry like web development, we cannot conclude anything without finding and sharing proofs. We searched the term "PSD to HTML" on Google. Here is what we found out:

There were over 10 million results! Mind you, this is enough to prove that PSD to HTML conversion is something that people are discussing. Millions of businesses are making the most of the PSD to HTML conversion techniques.
These services allow them to build a high-performing and feature-packed website at a cost-efficient price. Designing a website with the available tools in the web browser will take up a lot of time. 
Therefore, Hire web developer to reap the benefits of PSD as they do not have to build everything from scratch within a web browser. Moreover, PSD support for this conversion also assists web developers in delivering these services. 
Facts About PSD to HTML
It is a fact that the popularity scope of this conversion technique is always huge while developing the sites, whether professional or personal. If we compare PSD to CSS3/HTML conversion from today to a few years back, then it is found quite simpler these days. The major browsers provide smooth compatibility with HTML/CSS3 and stop slicing even when using PSD. The efficacious plugin named CSS helps you in converting PSD into layered CSS3 exclusively.
In general, converting PSD to HTML is a two-person task, where one designs the PSD file, and the second converts it into the code using CSS, JavaScript, and HTML technology. However, Photoshop file-swapping with other prominent image editors can also be made, but you need to follow the same principle gradually.
Let's Start a New Project Together!
Contact Us
Let's Dig into the Process Defined in Detail
Designing a website combined with pixel-precise code needs the below-mentioned steps to execute precisely:
Adopt a slicing tool and divide the designed PSD files; afterward, export them on the web acutely.

Prefer to hand-code CSS & HTML markup utilizing the exported images built with Photoshop.

Doing this process seems like the right approach at the very first glimpse, but you may feel difficulty while initializing the coding especially when you are aware of the look of the final result.
Hence, experimenting on PSD files at the first, then exporting them for HTML markup is being considered an impeccable and granular process. Going along with the same idea, many foremost companies, especially web development, use PSD to HTML.
The designer builds a PSD design and delivers it to the developer/coder to write the code. In recent times, the designers' role is surrounded by aesthetic designs and CSS/HTML code.
Related: Everything You Need To Know About PSD To HTML
Is PSD to HTML Buried or Still Alive!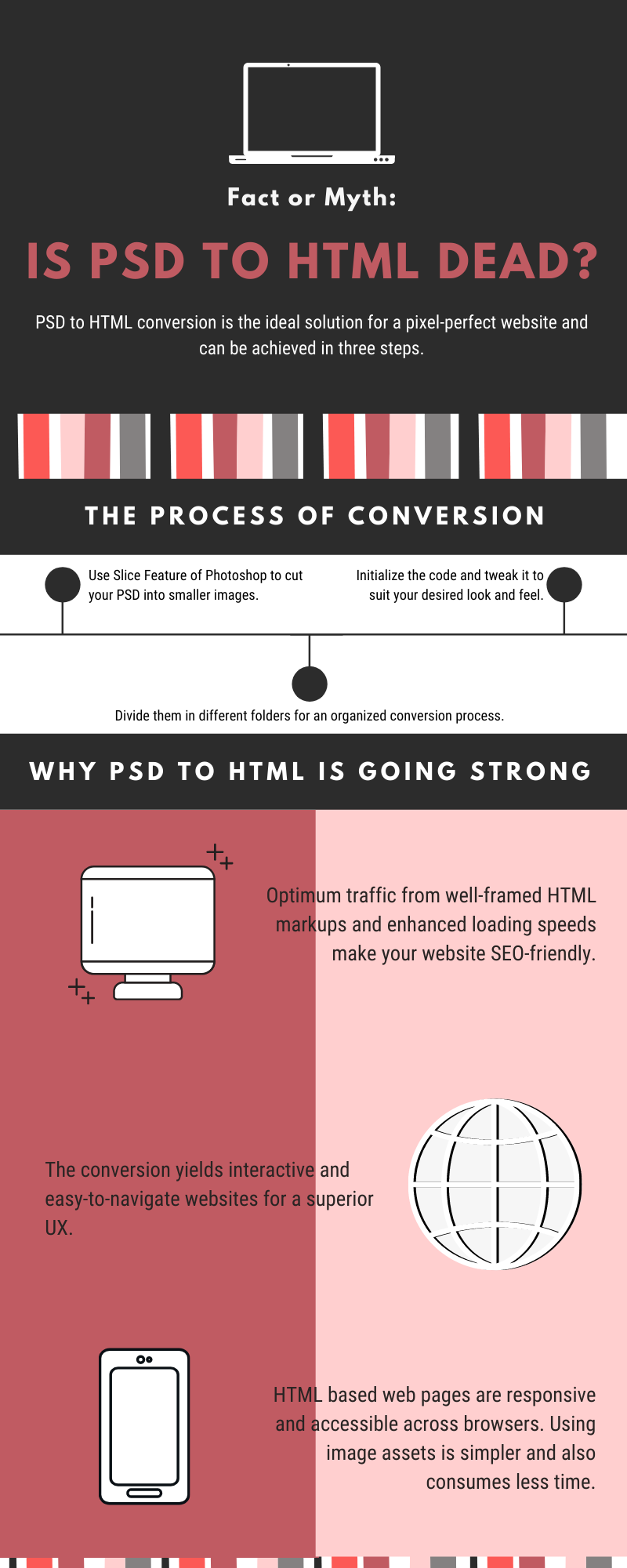 Yes, the workflow of PSD to HTML conversion services is an effective solution to develop websites. Two reasons have always kept it in the list of topmost techniques to build feature-rich websites with high visibility.
The first reason is image assets as it was onerous to add cross-browser capabilities without image use before the introduction of browser support CSS. At this time, creating this is simpler and it consumes considerably less time.
The second reason is the limitation of web browsing to computer systems only a few years back. Now HTML plays a significant role in the development of responsive websites that can be accessed on all internet-enabled handheld devices.
Must read:  Why is Hiring a Web Developer The Best Choice For Businesses?
Final Words
There is no doubt that the PSD to HTML process is extensively used in the web development industry. Many established organizations are deploying this technique to build robust and scalable websites in less time with minimal effort.
So, it would not be wrong to conclude that PSD to HTML conversion services is useful for businesses in all industrial domains. This is because it is an evolved process that leads to effective website creation.
For availing of quality PSD to HTML conversion services, you will require experienced and skilled developers. CSSChopper is a reliable service provider in this niche that is equipped with a talented workforce. We provide the best value on your investment. Contact us today!