PSD to HTML is Dead: Is It A Myth Or A Truth?
Are you suffering from the misconception that PSD to HTML no longer exist? People still love to use this approach/technology which makes this fact more rigid that PSD to HTML is still alive practically in the web development scenario, with most of the latest techniques and features embedded. In technical term, the conversion of PSD files into HTML markup is actually a process, but the designers and front-end developers have different definitions for the same. Under this process, professionals convert the web page Photoshop design file into optimized HTML code. No longer dependency of particular format as the design file can be in any format such as .AI, .PNG, .PDF or .PSD.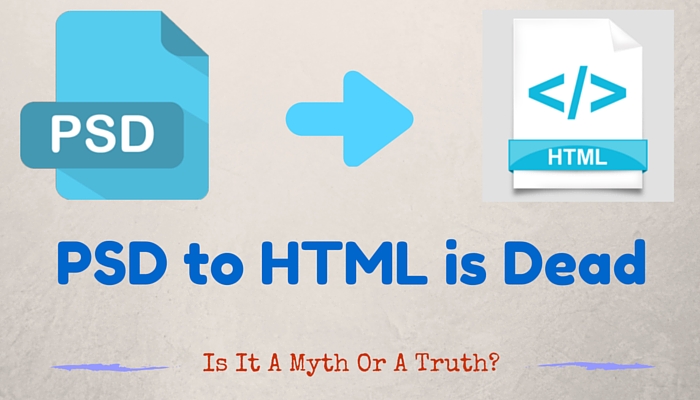 What is All About PSD to HTML!
It's a fact that popularity scope of this conversion technique is always huge while developing the sites, whether professional or personal. If we compare PSD to HTML/CSS conversion from today to a few years back, then it is found quite simpler these days. The major browsers provide smooth compatibility with HTML/CSS3 and stop slicing need even when using PSD. The efficacious plugin named CSS Hat helps you in converting PSD into layered CSS3 exclusively.
In general, converting PSD to HTML is a two-person task, where one designs the PSD file and second converts it into the code using CSS, JavaScript, and HTML technology. However, the Photoshop file swapping with other prominent image editor can also be made, but you need to follow the same principle gradually.
Let's Dig into the Process Defined in Detail:
Designing a website combined with pixel-precise code needs the below-mentioned steps to execute precisely:
Adopt a slicing tool and divide the designed PSD files; afterwards export them on the web acutely.
Prefer to hand-code CSS & HTML markup utilizing the exported images built with Photoshop.
Doing this process seems like the right approach at the very first glimpse, but you may feel difficulty while initializing the coding especially when you are aware of the look of produced final result. Hence, experimenting on PSD files at the first, then exporting them for HTML markup is being considered the impeccable & granular process.
Going along with the same idea, many foremost companies especially web development, use PSD to HTML, where the designer builds PSD design, then delivers it to developer/coder to write the code. But in recent time, the designers' role is surrounded with aesthetic designs and CSS/HTML code.
Is PSD to HTML Buried or Still Alive!
Yes, the workflow of PSD to HTML conversion is an effective solution to develop websites and 2 biggest reasons always keep it in the list of topmost techniques to build sites.
1st reason is image assets as it was onerous to add cross-browser capabilities without image use before the introduction of browser support CSS. But at this time, creating this is actually simpler and it consumes considerably lesser time.
2nd reason was the limitation of web browsing to the computer systems only few years back. But, now HTML plays a significant role in the development of responsive websites that can be accessed on all internet-enabled handheld devices.
Wrapping Words!
It should not become an issue of condolence or debate that PSD to HTML is dead as this process is still here in the web development industry, and is being used at broad scale by varied established organizations. Therefore, let's end up this conversation with the right yet effective message; PSD to HTML is still a worthy approach for current designers & developers. This workflow is not dead in real and adopted & evolved for the cost-effective website creation.
The perfect conversion demands experienced developers and CSSChopper is the eminent company backed by high-skilled professionals to convert PSD to HTML. You may avail the thorough conversion service from it as the company assures delivering 100% contented service with the highest quality standard.
Posted By: CSSChopper Team – Hire Dedicated HTML Developer for PSD to HTML Service.