Apart from a well known blogging platform, WordPress has gained lot of praises as a valuable content management system. Due to its utility and advantages most of the people are considering PSD to WordPress conversion for their web aspirations.
There are several reasons why WordPress is proving its supremacy over other content management services. It is flexible, easy to use, easily updatable, and customizable. As well as it has numerous interactive features like comments, tagging, plugins, and user feedback.
Due to its numerous benefits, WordPress is gaining popularity. In fact, according to some reports, 61,909,719 websites are currently using WordPress. And this number is growing daily.
WordPress offers various themes that enable you to change your business website's look and feel.
However, you need a customized and responsive WordPress theme for your unique requirements to make your website stand out.
That's where an expert PSD to WordPress conversion services provider can help you.
For those, who are not familiar with PSD to WordPress conversion, this blog will walk you through all about it.
So first, understand what it means by PSD to WordPress conversion.
What is PSD to WordPress Conversion?
PSD WordPress conversion is a process of converting a Photoshop Design (PSD) file into a fully functional WordPress theme.
The conversion process involves converting the visual design elements, such as layout, colors, typography, and graphics, from the PSD file into HTML, CSS, and PHP code compatible with WordPress.
It allows the design to be implemented and integrated into the WordPress CMS, enabling website owners to have a dynamic and customizable website.
Simple Steps To Convert PSD to WordPress
Below are the simple steps to convert PSD to WordPress:
1. Analyze The PSD
The PSD file is carefully examined to understand the design elements, including the layout, typography, images, and other visual components. This conversion involves numerous activities, such as splitting the mockup into HTML, putting a header, etc.
Therefore, web developers should understand each concept while converting PSD files into HTML code.
2. Slice The PSD
After carefully analyzing the PSD, the next step in PSD to WP conversion is to slice the images from the PSD.
Suppose you don't know what the term "slice" means. In that case, it simply refers to cutting and dividing a single image file into multiple individual image files. Each has the different design elements of the overall design.
This step is essential, as PSD to WordPress conversion solution providers can't code the whole design from a single image.
To accomplish this task, open your design file in Photoshop and identify the images that require slicing.
Begin by focusing on these specific elements to streamline the slicing procedure:
Backgrounds and other visual elements
Header and separator
Footers and other components
Use graphic editing software like Adobe Photoshop or Sketch to slice the PSD file into individual image files for each design element. Save them in a web-friendly format like JPEG or PNG.
3. Write HTML, CSS, and JavaScript
The next step is to code the sliced elements into an HTML5 webpage and style it with CSS3.
With the help of a leading PSD to WordPress conversion company, you can create separate files for HTML, CSS, and PHP codes with the extensions index.html, style.css, and index.php, respectively. Ensure the HTML and CSS are clean, well-structured, and optimized for web standards.
4. Breaking the HTML into WordPress theme structure
Once you have successfully done the coding part of the PSD WordPress conversion, it's time to turn your static HTML file into a dynamic & responsive WordPress theme.
Index.php and Style.css are two primary files used to make a WordPress theme. Here, you need to break up the index. HTML into .php files.
5. Add WordPress Functionality
If your PSD design includes interactive elements such as sliders, forms, or galleries, you must add the necessary functionality using WordPress plugins or custom code.
Choose suitable plugins that align with your design requirements and install them on your WordPress site.
6. Testing
Testing is an integral part of the PSD to WP conversion process. At this stage, your newly created WordPress theme is unit tested.
The PSD WordPress conversion services provider you have selected will check whether your theme's HTML and CSS meet all the standards set by W3C or not. Also, the team checks and fix any JavaScript, PHP, and WordPress errors.
7. Uploading the Theme
Once you are satisfied with the PSD WordPress conversion and have thoroughly tested the website, it's time to deploy it to the live server.
Transfer the WordPress files and database to the production environment, update the necessary configurations, & ensure the site is accessible to the public.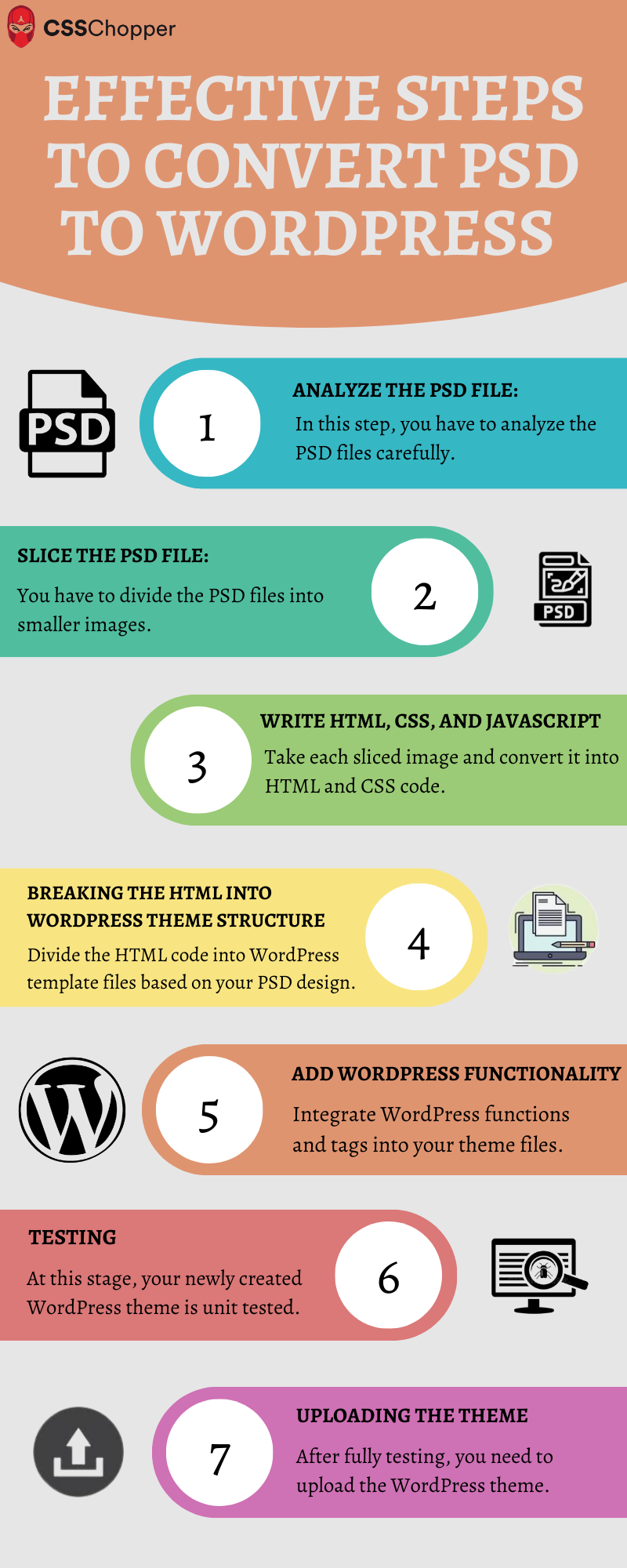 Top 5 Advantages Of Outsourcing PSD to WordPress Conversion Services
1. Cost-Effective
Outsourcing reliable PSD to WordPress developers saves you the cost of hiring and managing an in-house team. It allows you to focus on other core aspects of your business. As well as, you don't have to pay for office rent, equipment bills, electricity bills, etc.
2. Quality Work
When you get work done by experts, it shows the quality. Outsourcing your PSD WordPress project to a leading WordPress development company gives you a sense of credibility. As these teams offer you high-quality and better outcomes.
3. Access To Experts
It can be complicated to manage numerous and highly customizable features. That's why you need an expert PSD to WordPress converter.
By hiring a reliable service provider, you get access to a team of experts experienced in PSD to WordPress conversions. They possess the necessary skills and knowledge to handle the process effectively, ensuring high-quality results.
4. Ongoing Support and Maintenance
Reputable PSD WordPress service providers often offer post-conversion support and maintenance services. It includes assistance with updates, troubleshooting, bug fixes, and regular pickups.
By outsourcing, you can rely on their expertise for ongoing technical support and maintenance of your WordPress website.
5. Responsive and SEO-friendly Design
Expert PSD to WordPress conversion services ensure the resulting website is responsive and optimized for search engines. They utilize the best practices to make the website mobile-friendly, adaptable to different screen sizes, and compatible with various browsers.
They also implement SEO-friendly techniques to enhance your website's visibility and search engine rankings.
Why Choose CSSChopper's PSD to WordPress Conversion Services?
At CSSChopper, we will create codes for your designs and provide you with desirable themes for your website with PSD to WordPress conversion. We are an experienced PSD to WordPress development company with technical expertise and resources. Our dedicated developers will help you convert PSD to WordPress efficiently.
With PSD to WordPress conversion, we offer you the following services:
Codes with CHTML and CSS markups with W3C standards
Browsing compatibility with IE, Mozilla, Safari, Google Chrome, Opera
Prompt loading of pages and images.
Codes supportive to search engine optimization
Table-free CSS designs
Semantic coding scheme
Support and maintenance
Customer satisfaction on the verge of full *money-back warrant
eCommerce migration
So what are you waiting for?
Get in touch with us and schedule a call today!