Launching an eCommerce store is no more a hassle today. Thanks to eCommerce platforms like Shopify, it is much easier to build eCommerce websites than ever before. It is a platform that takes much of the pain of creating an online store. And, within a few clicks, anyone can build a full-fledged eCommerce store on Shopify.
Why is Shopify a leading choice in eCommerce development?
With tons of eCommerce platforms to choose from, selecting the right one to match your business requirements needs a good amount of thought. Shopify is a top-notch eCommerce platform for those who want to start their own eCommerce stores. And, people who have already invested in Shopify website development know-how amazing is this platform. It has opened up the opportunity to build online stores for those who aren't tech-savvy. Hence, the beauty of this platform is that anyone can use it without specialized knowledge.
Out-of-the-box Shopify is a one-stop-shop to run your eCommerce business with a central command. It allows merchants to sell online and from a physical location with Shopify POS. Simplicity is what makes Shopify unique and a preferential choice for eCommerce development.
Here is a quick rundown of Shopify vs other top eCommerce platforms:
Shopify vs Magento
1. CMS feature
Shopify comes with built-in CMS functionality allowing online retailers to run their own blogs. There is a simple editor to change typefaces, headers, include images, add links, and do more. On the other hand, with Magento, you are likely to use a third-party plugin for this.
2. No transaction fees
While Magento doesn't charge transactions fees, they are added when using a payment provider. If you use Shopify's own payment service, the transaction fees are waived off.
3. No limit on bandwidth
Unlimited bandwidth and online storage are available on all plans of Shopify. On Magento, you need to set up the storage separately for unlimited bandwidth. It makes Shopify web development a premier choice for large eCommerce stores.
4. POS system availability
Comparing Shopify vs Magento on a POS system basis, Shopify offers a first-party POS system, whereas Magento offers it through a third-party system.
5. Built-in security
Shopify offers in-built fraud analysis, SSL certificates, and it is PCI-DSS compliant. It is also compliant with GDPR. You need to contact support for SSL certificates on Magento. And make your store PCI-DSS compliant. Hence, you need to set it up manually while it's in-built in Shopify.
6. Made for every business
Magento is best-suited for enterprises, while Shopify is for every business. It is suitable to build an eCommerce solution for all businesses regardless of their sizes.
You can check Shopify vs Magento detailed comparison to get an in-depth analysis of which one is best.
Shopify vs PrestaShop
1. Top themes
Though PrestaShop has more themes, Shopify has themes purpose-built for eCommerce. Also, these themes are easy to customize without needing to code.
2. Best for SMBs
Shopify is a suitable eCommerce platform for small and medium-sized businesses. It offers many templates to customize the website's look and feel without external support. Typically, you need to rely on professional support for even minor customization.
3. Affordable apps
There are thousands of free and paid apps on the Shopify App Store. These apps offer additional functionalities for your store and are affordable than PrestaShop has to offer.
4. Suitable for product launches
Shopify offers reliable hosting and uptime with the capacity to handle a high volume of traffic, uptime, etc. PrestaShop has no direct control over hosting; it's the online store owner's responsibility to find one.
Check the detailed comparison of Shopify vs PrestaShop to know which platform is the best.
Shopify vs WooCommerce
1. Reliable development
Developers work on both WooCommerce and Shopify. But most elements of Shopify are controlled by Shopify, like hosting, features, etc. WooCommerce is more dependent on extension and WordPress plugins that may not be updated for bugs. Hence, Shopify eCommerce store development occurs on updated techs.
2. Launch a store on the same day
Shopify allows you to set up and launch a store on the same day. You have to buy a domain and point to a server that may take several hours to a few days. You can also benefit from the subdomain on Shopify.
3. Multi-store feature
Both Shopify and WooCommerce have multi-store functionalities. But Shopify makes it accessible from the admin interface, and WooCommerce requires a plugin.
4. Shopify specializes in eCommerce
You can choose Shopify eCommerce development services to create an online store of your choice because Shopify is built for eCommerce. WooCommerce was built on WordPress CMS, and the eCommerce element was added later. So, the CMS wasn't for eCommerce in the beginning.
Also read –  Shopify vs Shopify Plus: Clearing your dilemma
When it comes to Shopify development, confusion around Shopify vs Shopify Plus arises among businesses. Though both of them have many similarities, differences also exist that separate them. Moreover, both Shopify and Shopify Plus are built for different purposes. Broadly Shopify is a great option for small and medium businesses and individuals looking to sell online. On the other hand, Shopify Plus is the right platform for enterprises with multimillion sales.
You can choose an appropriate Shopify plan to build your online store based on your business requirements. Moreover, if you want something beyond basic Shopify but not as big as Shopify Plus, you can opt for Shopify Advanced. It is an excellent option for growing businesses that want to upgrade to a higher edition. You can check the difference between Shopify Plus vs Shopify Advanced to know more.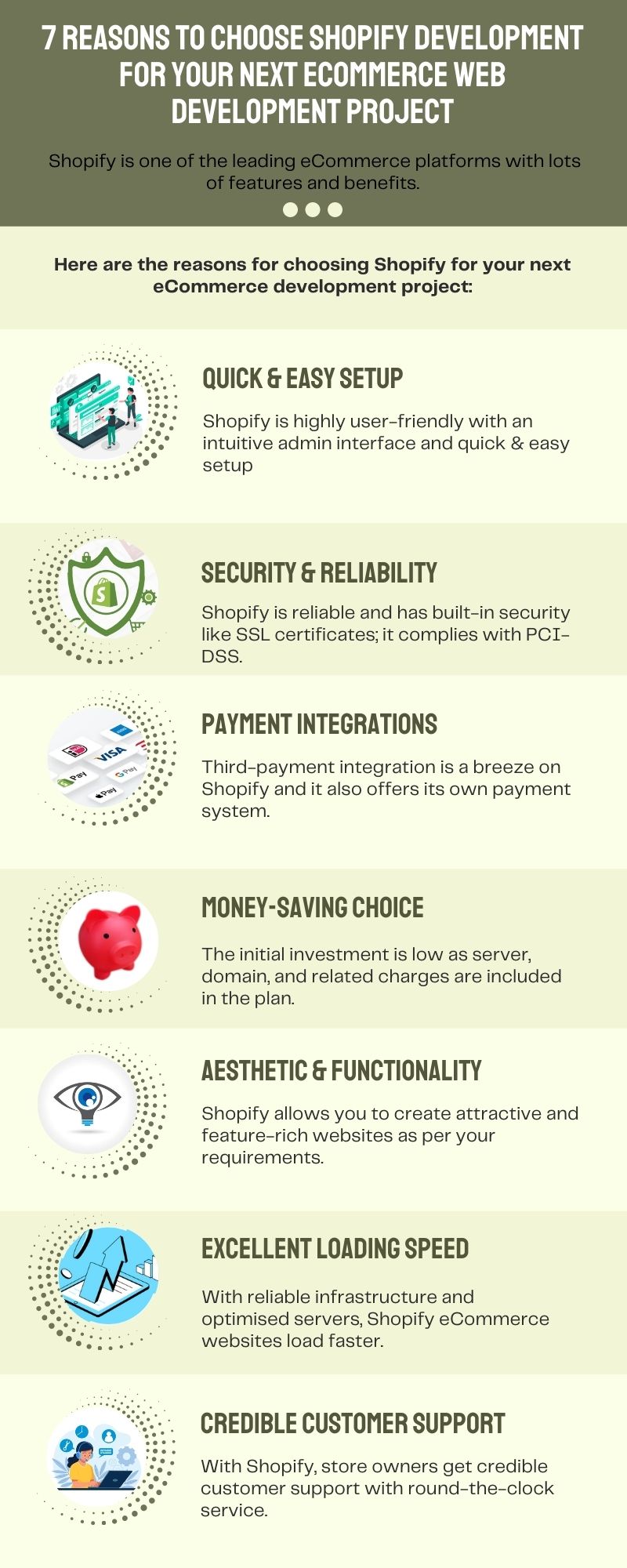 Top reasons to choose Shopify for eCommerce Development
Creating an eCommerce website is a crucial decision for any business. All your investments can go in vain if you choose the wrong platform. Shopify has been here for some time now, and millions of online stores use it. There are several proven benefits of this platform. The following are seven compelling reasons why you should opt for Shopify development service:
1. Aesthetics and functionality
A unique and attractive website is essential to compete with others in the growing eCommerce market. You can customize your online store by choosing a suitable theme or template for your website. You can also select a Shopify website development company to create a custom theme. The company can help you create a unique website for specific business needs.
Shopify apps help you to extend the functionality of your eCommerce store. No matter what functionality you need, there will be an app to fulfill your requirements. The apps offer functionality related to products, reports, orders, customer relationships, and more.
2. Easy & quick set up
Shopify provides an easy way to build an eCommerce store without the fuss over servers and configurations. It has an intuitive and user-friendly admin interface with logically structured features. Hence, as a user, you won't find difficulty using this platform, and you can use manage and customize your store easily.
3. Security and reliability
Another great reason you should choose Shopify development is the security and reliability. Undoubtedly, safety is crucial for any eCommerce platform as it deals with confidential user and financial data. Shopify has built-in security features such as SSL certificates, secure hosting, vulnerability management, network monitoring and test, and more. It is PCI compliant; hence, it is a secure eCommerce platform.
Shopify's reliability comes from the millions of businesses using it. Many top companies also use this platform, including Kylie Cosmetics, Red Bull, Gymshark, Holland Cooper, Heinz, and more.
4. Payment integrations
Shopify allows you to integrate third-party services, including the payment gateways of your choice. It will enable you to integrate different payment services, including Stripe, PayPal, Amazon Pay, and more. It also offers its own Shopify Pay payment service that doesn't charge fees on transactions. There are advanced features like Shipping services, Shopify Trust, affiliates, etc, to ensure that your store runs smoothly.
Secure and seamless online transactions are essential for any successful eCommerce store. Shopify empowers your online store to process online payments securely and efficiently with payment integrations. You can choose any online payment service to enable payment processing on your online store. Alternately, you can rely on a Shopify development company to provide custom payment solutions for your store.
5. Money-saving choice
An eCommerce store is a huge investment that may go up depending on specific business requirements. Since Shopify is a subscription-based all-inclusive eCommerce platform, the initial costs on the platform are lower. You can simply choose a plan to build an eCommerce store based on your needs. You need to do everything manually there and spend on hosting and domain on other CMS-based platforms. Hence, you need to invest in developing, hosting, domain, and any other service separately. But on Shopify, all this comes with a single plan. Hence, it is a cost-effective solution for SMEs.
6. Excellent loading speed
Shopify runs on a reliable infrastructure with well-optimized servers. Therefore, the platform has a super-fast loading speed. As a result, eCommerce websites that run on Shopify will likely load faster. Thus you can create a fast-loading eCommerce website by choosing custom Shopify development.
7. Credible customer support
Another great advantage of Shopify is the reliable and round-the-clock customer support. Indeed, if you choose this platform for developing your online store, you will have the opportunity to resolve your tech glitches quickly with reliable customer support.
Wrapping up!
Global online sales are reaching new heights. As a result, there is a growing demand for eCommerce development services. Moreover, Shopify is emerging as one of the top eCommerce platforms for developing top-notch online stores today. It offers numerous benefits for creating online stores. You can choose Shopify for your next eCommerce development project.
Moreover, you can find the right Shopify website development company to build your website. CSSChopper is a top-rated Shopify development partner. We can create the best eCommerce solution for you.