Teaching and learning have evolved drastically with advancements in technology. Educators and faculties around the globe have started supporting digital and less traditional models for education. In fact, 65% of faculty in research supported the use of open educational resources in teaching.
With the increasing number of thumbs up by educators and learners, the eLearning market has flourished exponentially over the past few years. According to Statista's latest findings, the eLearning global market is expected to exceed 243 billion U.S. dollars by 2022.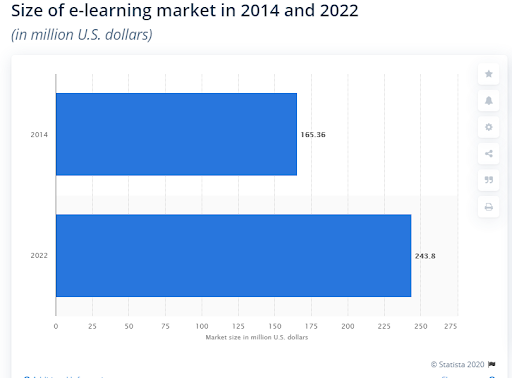 A glimpse of the statistical findings of the eLearning market seems alluring to businesses. This is why an enormous amount of investment is done in the eLearning market globally. But the mere presence of lucrative market potential is not enough for an idea to work. Right?
Any Online education marketplace should be unique, well-planned, and superbly developed to find its own trail for success. But it is easier said than done! How are you going to create an eLearning website that works well enough to reap the benefits of the growing market?
In this blog, we will find a solution to this query. Here are the six steps which you should follow for an eLearning Website Development:
6 Steps to Build eLearning Website: From 0 to Launch
Step 1: Identify Your Learners
Business is all about customers and their satisfaction. Before starting with anything else it is important to know your target audience (learners). Create a dummy of your potential learner. Answer questions like- What is the age of your learners? What are their interests? What are their needs? Which device will they use to navigate an online education marketplace?
And everything else that will help in knowing them better. Based on this information, plan further Education Website Development for your business. Always focus on content that seems personalized to your target audience. And in content, you need to focus on design and development factors also.
 Step 2: Business e-Learning Models Development
Can anyone work on a new venture without a well-defined business model? After customers, the business model is another important crucial aspect of eLearning website development. If the customer is the fruit, Business e-Learning Models Development is the roots.
If you study your industry then the Udemy model has been a lucrative one. It works on a model where anyone can submit their course after a stringent verification process. This helps in growing your network in number tremendously.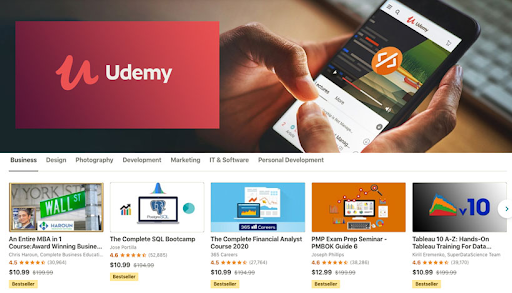 Another business model for the education marketplace can be where you can get into contact with reputed colleges and educators. These two models are similar to aggregator business models. Choose your model wisely because if something goes wrong here, it can weaken the foundation of your Web Development.
Let's Start a New Project Together!
Contact Us
Step 3: Select the Features for eLearning Website 
You need to select the appropriate features for your eLearning website. It has a strong impact on the cost of your education website development. Hence, choose them wisely. A brief description of the essential features are given below:
Push Notifications: It helps in reminding your learners about the course, assignment, or test which are upcoming or pending. This increases engagements and improves user interaction.
Payment Gateway Integration: This is a vital feature that has to be included. Make sure to meet the requirements of PCI-DSS regulations. This safeguard not only customers but also improves your credibility.
Connect with Social Media: This will improve your branding over social media platforms and increase the authentication of users when they are connected with Facebook or Google.
Filtering Systems: A well-organized design will fetch quick information to learners. When it comes to education websites, you cannot risk the comfort of students.
Real-time Chat feature: This improves the learning experience of users as with this feature they can chat with their educators or your customer support staff any time they need.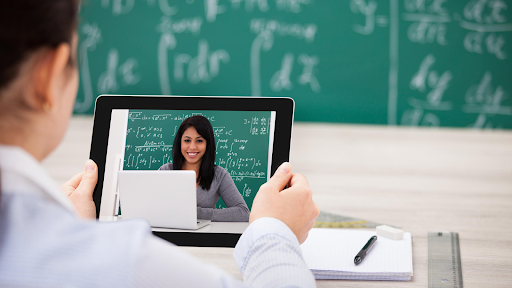 Step 4: Connect with Educators
You worked on connecting with learners in the first step but who is going to teach them unless educators are enrolled. There are many teachers in the contemporary world who support digital learning. You need to search for the right educators for your website.
You can have an open-space for educators to apply like Udemy or connect with universities like Coursera. No matter which Business e-Learning Models Development you will choose, an initial tie-up or enrollment of educators is essential.
Step 5: Estimate the Cost
This is a matter of concern for almost every entrepreneur. Be focused on achieving the maximum outcome at a minimum cost. Proper cost estimation for online marketplace development is done based on the features of your website.
Discuss every requirement with your eLearning website development company. This will help them in giving the exact quote. Some features and tech-stack may cost more than other features and tech-stack. Once you know your needs, you can come in contact with your eLearning development company. In the next step, learn to choose the right website development company.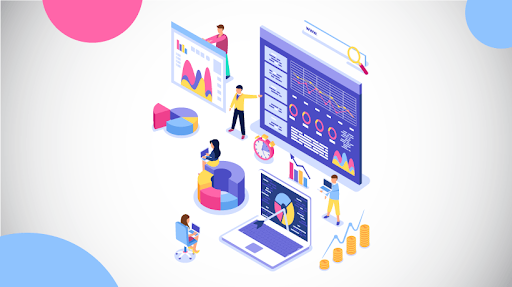 Step 6: Partner with an eLearning Website Development Company
In all the above steps, you must have observed that your eLearning web development will largely depend upon the development and designs. You need to select the right company after analyzing them on the following criteria:
Offer the features that you need in eLearning website development
Provide consultation, coding, testing, and launching of eLearning websites.
Has developed an eLearning website before
Reviews on rating agencies sites are good
Give choice among multiple hiring models like hourly, monthly, fixed-cost, etc.
If an eLearning web development company meets these criteria then discuss your idea with them and start with the online education marketplace development.
Conclusion: 
Undoubtedly, the education industry is experiencing a wave of revolution in its models. The learners and educators have shifted towards the eLearning system. Be a smart entrepreneur by following the above steps to build an eLearning website perfectly in one go.
You are not alone in this journey, the partner you choose will have a great impact on the functionality, performance, and success of your eLearning marketplace. It is recommended to choose a custom website development company while keeping your requirements and goals at utmost priority.
CSSChopper can play a smart role in this journey with our latest technology integration, years of experience, and expertise in eLearning web development. We are known for creating eLearning marketplaces with advanced functionalities, perfect quality-price match, scalability, and flawless performance.