Creating a compelling website in terms of features and user experience is key to making a good impression on visitors. You need to build a website that follows the latest trends and resonates with the target audience to get ahead of your competitors. Your website doesn't just provide an online presence for your organization, but it is also a doorway for your business transactions. Hence, you should strictly pick the right method to build your website.
PSD to WordPress conversion is a popular method to develop engaging websites, whether as simple as a corporate one or as complex as an e-Commerce store. You may wonder why convert PSD to WordPress only when there are many other CMS available. So, let's begin with the benefits of WordPress CMS to understand its significance.
Here, we have listed PSD to WordPress Conversion services benefits that will help in your business growth in the online marketplace.
Benefits of PSD to WordPress Conversion
Earlier, managing and modifying a website was a painstaking job, especially for those who aren't tech-savvy. At that time, any website modifications or updates were required to work with complex HTML code. Working with such complex code wasn't a cup of tea for those entrepreneurs owning websites. Though they can use PSD to WordPress converter, it's not much effective.
Thanks to the arrival of CMS or Content Management Systems like WordPress, managing a website and modifying its content is way more convenient than it was before. With this platform, website development and management have become highly efficient and affordable. How so? You will need to hire developers to maintain and update your HTML website, but doing this is convenient with a CMS.
The following are key benefits of PSD to WordPress conversion.
1. Open source Platform
A major advantage of building your website on WordPress is that it is an open-source platform. It means the source code of this platform is available publicly that anyone can use and build at their convenience. Thus, WordPress gives you complete flexibility to create more complex web solutions. It's free and available without any restrictions. As a result, you can build a website that is flexible and customized to every need.
2. Excellent Customization
Creating a unique and feature-rich website is the primary goal of every business. Moreover, WordPress is the right platform to develop a cutting-edge website because it is flexible and customizable. Indeed, there are lots of themes available with WordPress, and you can choose any based on your requirements. Moreover, you can also rely on WordPress developers to build a custom theme to leverage the best features of this CMS. Besides customizing the appearance, you can use plugins to extend the functionality of your website. You need to partner with a good WordPress development services company to build a great website.
Also Read: PSD to Responsive WordPress Theme Conversion Service
3. Easy to use
WordPress is alike for both noobs and tech pros because it's a user-friendly platform. The easy interface and quick menu options allow any WordPress user to work with this platform seamlessly. The user-friendly and intuitive interface of the CMS makes it easy for users to work with it and navigate through different options. Several reasons like them make PSD to WordPress conversion services a sought-after solution.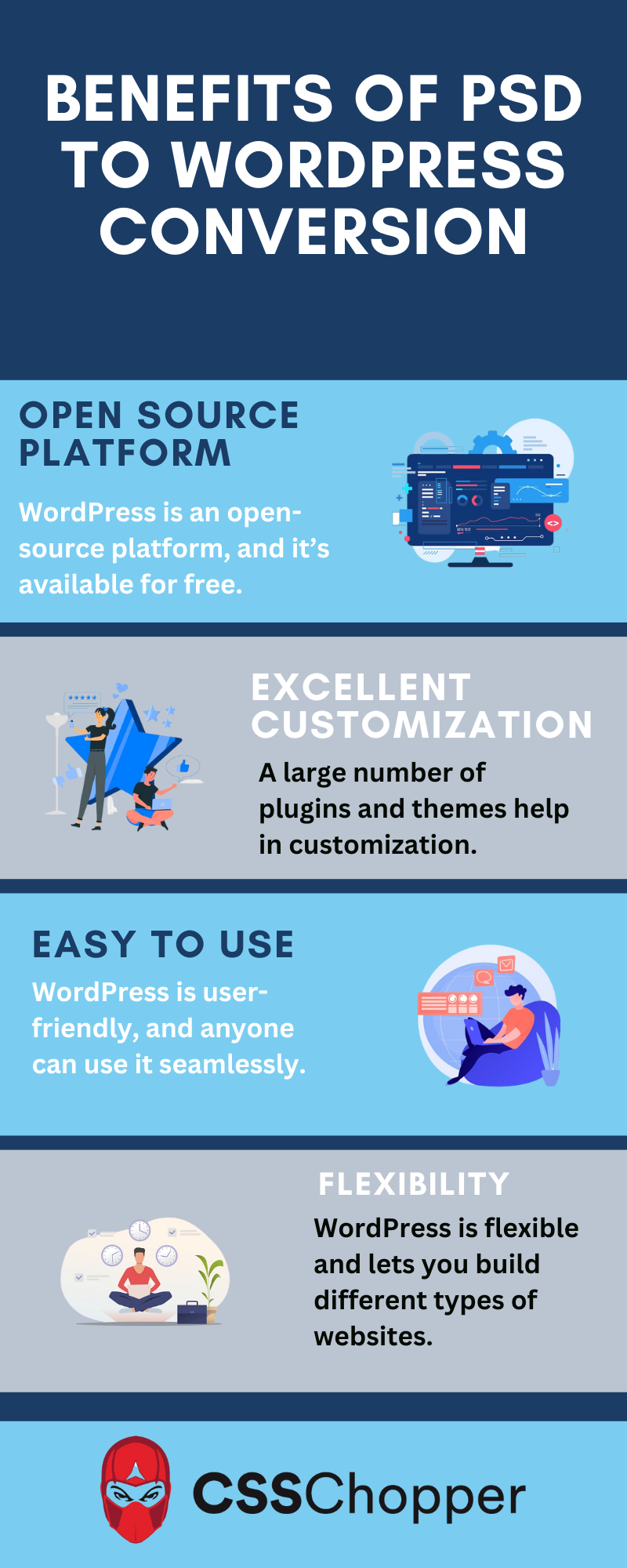 4. Flexibility
This is why many business owners and entrepreneurs opt for professional PSD to WordPress Conversion services. WordPress is considered an ideal choice for small and big organizations to give their business a solid web presence among the available open-source CMS platforms. The option to convert PSD to WordPress offers numerous flexibility helping businesses meet a wide range of challenges. This Content Management System offers a user-friendly interface that makes it suitable for non-technical people allowing them to manage their websites proficiently.
PSD to WordPress Conversion is Easy
Before heading towards PSD to WordPress conversion, you need to perform several tasks, like chopping the PSD, creating different directories, and coding the website. However, this process is a bit lengthy and takes time. For a faster process, you can utilize a PSD to WordPress converter tool that is available online. With the use of these tools, the process of converting Photoshop documents to a WordPress website is accelerated. However, you do not get a good quality conversion, and it may be incompatible with different web browsers and devices. Therefore it is advisable to look for reliable PSD to WordPress conversion services for high-quality output. Besides PSD, the converter tools can also use PNG, JPEG, TIF, or even PDF for creating the theme.
Looking for a Front-end Development Service? Contact Us
Ways to Convert PSD to WordPress
Firstly, as we should know that not every person is well-proficient in the coding part to carry out the website handling and frequent updates smoothly. Secondly, you cannot hire a permanent developer to look after your website for updating day-to-day content, etc., especially for businesses with limited budgets. Here comes the significance of WordPress, which eliminates the need for both an intuitive & friendly platform to give full control over the website management. Anyone can easily create, edit, update, and delete content without professional help.
There are two ways to convert PSD into a WordPress theme
Manual method

Take the help of an expert
1. Manual Method
Creating a website manually requires specialized knowledge and experience. You should be able to code PSD in HTML and then create PHP code based on that template. PHP is the underlying technology for WordPress CMS. If you can code, you will have to create various files like index.php, CSS files, images, and more to build the theme.
2. Take the help of an expert
If you need a website with a solid web presence, then it should be made as per the latest SEO standards and quality guidelines. Having an SEO website is another benefit of PSD to WordPress conversion service, which is possible because of the semantic coding that lets web crawlers read every element of the web page effortlessly. This is where a tech partner can help to make a website with all these benefits. So, instead of manual conversion of PSD to WordPress, you can pick an expert to do the job.
Wrapping up!
To conclude, PSD to WordPress conversion is a highly significant part of web development services that extend the possibilities of web presence. Other than the above-provided benefits, there are other benefits like cross-browser compatibility, W3C Validation, etc., that help in creating a robust website. Choose a WordPress development services company that has sufficient experience in the conversion process.